The "Dreams Dictionary" is now available to all our readers at a special discount price, and what's more; it is yours for life!
Other than the Free online Dreams Dictionary, the book will be updated regularly and will be a lot more comprehensive. Please check out all the benefits you receive on purchase of the Dictionary:
The Dreams and Visions Dictionary (Book) will be updated as new symbols and the meanings of new symbols are identified. For this reason the book's edition number or revision date will be important to take note of. Dictionary owners will always be able to download the latest edition of the Dreams Dictionary by means of the "download link" that they received when they purchased the dictionary. Keep your download link saved on your PC or on your email server. Links can be regenerated and emailed to you by requesting for it by email.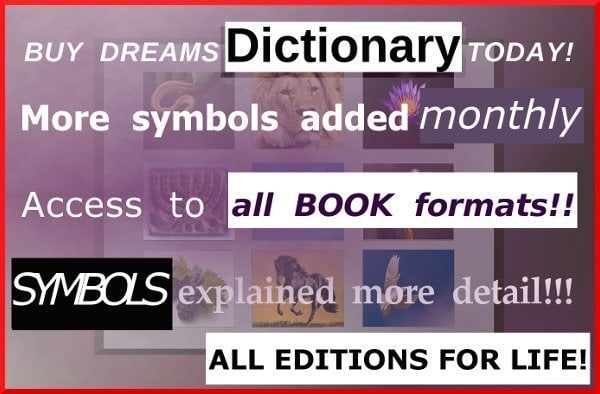 How should I use the free online dreams and visions symbols dictionary?
Read through the explanation of the meanings(s) of the particular symbol. Make sure you take note of deviations and exceptions regarding the different meanings. Record the meanings. Identify the incident that triggered the dream or the vision. This is the basis or the foundation from where you start or build your interpretation process. Before you start, you need to understand what triggered the dream or the vision. Read about this principle at this link: The Golden Key
Please take note, in order to learn the Biblical language of symbols, you need to read this information: How to interpret dreams and visions symbols correctly
Click on the following letters of the alphabet for the relevant symbol that you are looking for:
Directions, movement and positions in dreams and visions
Substitution in dreams and visions
I – Symbols (The meanings or the interpretation of most symbols in this dictionary are derived from the Bible)
Ice-cream
Ice-cream is made from milk. Milk symbolizes the basic or foundational word of God, which is not solid food but food for babies. Ice-cream is even a sweet variant of milk and produced for enjoyment and not for nutritional value. Ice-cream, therefore, symbolizes teachings that are pleasant to the ears. It speaks of ear-tickling words that do not really have a lot of value. It is almost like chocolate. It has value when you are preaching to unsaved people but this is really not for mature Christians.
See "Food" and "Chocolate" and "Cake" and "Sweet" for a better understanding of this symbol.
Incense
Psalm 141:2
Let my prayer be set forth before thee as incense; and the lifting up of my hands as the evening sacrifice.
Jeremiah 1:16
And I will utter my judgments against them touching all their wickedness, who have forsaken me, and have burned incense unto other gods, and worshipped the works of their own hands.
Luke 1:10-11
10 And the whole multitude of the people were praying without at the time of incense.
11 And there appeared unto him an angel of the Lord standing on the right side of the altar of incense.
Isaiah 60:6
The multitude of camels shall cover thee, the dromedaries of Midian and Ephah; all they from Sheba shall come: they shall bring gold and incense; and they shall shew forth the praises of the Lord.
Incense in dreams and visions symbolizes prayer and intercession. Dreaming of incense may be a call to pray for a specific matter or situation. Other symbols in the specific dream will reveal more information about this symbol.
Indigo
See "Colors in dreams and visions"
Infections
See "Boils"
Intersection
An intersection symbolizes a place and a time of decision making. When you dream of an intersection you need to look at all the relevant factors and you need to make a decision. You cannot postpone or ignore the decision just as you cannot ignore a real intersection.
Insects
Insects symbolize the irritating or distracting thoughts of human beings. Just as insects are constantly on the move, constantly relocating its position and constantly adjusting its speed and direction, so are the thoughts of human beings, constantly skipping rapidly from one subject to the other and constantly wandering off into different directions.
We are supposed to replace all these negative thoughts with the word of God. We are supposed to take control of our thoughts and the emotions caused by these negative thoughts. In dreams and visions, different insects symbolize different thought patterns that we accommodate in our minds as well as the different deceptive thoughts and influences that the enemy (evil spirits) put in our minds.
Do take note that some insects, just like animals, do symbolize the attitude of people and not really their thoughts. Those insects are discussed in the dictionary. However, do not forget that most insects actually symbolize the negative or toxic thought-life or thought patterns of people.
See "Animals" and "Creatures (Of the air)" for a better understanding of this symbol.
Iron
Genesis 4:22
And Zillah, she also bare Tubalcain, an instructer of every artificer in brass and iron: and the sister of Tubalcain was Naamah.
Daniel 2:33
His legs of iron, his feet part of iron and part of clay.
Psalm 107:10
Such as sit in darkness and in the shadow of death, being bound in affliction and iron.
Judges 4:3
And the children of Israel cried unto the Lord: for he had nine hundred chariots of iron; and twenty years he mightily oppressed the children of Israel.
Rev 2:27
And he shall rule them with a rod of iron; as the vessels of a potter shall they be broken to shivers: even as I received of my Father.
Daniel 2:19
Then I would know the truth of the fourth beast, which was diverse from all the others, exceeding dreadful, whose teeth were of iron, and his nails of brass; which devoured, brake in pieces, and stamped the residue with his feet.
As you have seen in Genesis 4:22, Tubalcain, was the first person mentioned in the Bible who made all sorts of tools and equipment with iron. Iron is hard and strong but it is not pure. It is not a precious metal and it rusts very easily when it gets wet or when it comes into contact with salt or chemicals. It is a man-made product.
In a spiritual sense, it symbolizes strength, crushing, judgment, and affliction and it speaks of the man-made support structures of the human race. Raw iron is not like stainless steel. Stainless steel is iron, representing man, of which all impurities have been removed by its creator, into which other substances are added and subsequently changed, representing input from God. Because of this "co-operation" or this "mixture" of "earth" and "heaven", stainless steel symbolizes the mature child of God who is a vessel of excellence or an instrument of excellence in the hand of God.
In another sense, iron symbolizes inflexible rule. It speaks of people who establish earthly rules and regulations and who cast those rules in "iron." Therefore, it symbolizes man-made doctrines and teachings. Most or many of the doctrines in the institutional church are man-made and are therefore symbolized by iron. Iron symbolizes people who rely on the strength of worldly systems instead of in God. See "Beam (Steel structure)" for a better understanding of this symbol.
Isaac
Genesis 22:2
And he said, Take now thy son, thine only son Isaac, whom thou lovest, and get thee into the land of Moriah; and offer him there for a burnt offering upon one of the mountains which I will tell thee of.
John 3:16
or God so loved the world, that he gave his only begotten Son, that whosoever believeth in him should not perish, but have everlasting life.
Galatians 3:16
Now to Abraham and his seed were the promises made. He saith not, And to seeds, as of many; but as of one, And to thy seed, which is Christ.
Galatians 4:22-31
22 For it is written, that Abraham had two sons, the one by a bondmaid, the other by a freewoman.
23 But he who was of the bondwoman was born after the flesh; but he of the freewoman was by promise.
24 Which things are an allegory: for these are the two covenants; the one from the mount Sinai, which gendereth to bondage, which is Agar.
25 For this Agar is mount Sinai in Arabia, and answereth to Jerusalem which now is, and is in bondage with her children.
26 But Jerusalem which is above is free, which is the mother of us all.
27 For it is written, Rejoice, thou barren that bearest not; break forth and cry, thou that travailest not: for the desolate hath many more children than she which hath an husband.
28 Now we, brethren, as Isaac was, are the children of promise.
29 But as then he that was born after the flesh persecuted him that was born after the Spirit, even so it is now.
30 Nevertheless what saith the scripture? Cast out the bondwoman and her son: for the son of the bondwoman shall not be heir with the son of the freewoman.
31 So then, brethren, we are not children of the bondwoman, but of the free.
The Biblical Isaac in dreams and visions symbolizes Christ Jesus who was God's only begotten son whom He gave to be sacrificed just like Abraham did (almost) with Isaac, his only son.
Israel
Galatians 6:16
And as many as walk according to this rule, peace be on them, and mercy, and upon the Israel of God.
Romans 9:1-13
I say the truth in Christ, I lie not, my conscience also bearing me witness in the Holy Ghost,
2 That I have great heaviness and continual sorrow in my heart.
3 For I could wish that myself were accursed from Christ for my brethren, my kinsmen according to the flesh:
4 Who are Israelites; to whom pertaineth the adoption, and the glory, and the covenants, and the giving of the law, and the service of God, and the promises;
5 Whose are the fathers, and of whom as concerning the flesh Christ came, who is over all, God blessed for ever. Amen.
6 Not as though the word of God hath taken none effect. For they are not all Israel, which are of Israel:
7 Neither, because they are the seed of Abraham, are they all children: but, In Isaac shall thy seed be called.
8 That is, They which are the children of the flesh, these are not the children of God: but the children of the promise are counted for the seed.
9 For this is the word of promise, At this time will I come, and Sarah shall have a son.
10 And not only this; but when Rebecca also had conceived by one, even by our father Isaac;
11 (For the children being not yet born, neither having done any good or evil, that the purpose of God according to election might stand, not of works, but of him that calleth;)
12 It was said unto her, The elder shall serve the younger.
13 As it is written, Jacob have I loved, but Esau have I hated.
Israel in dreams and visions symbolizes the true and spiritual Israel of God (the church). Although Israel in dreams and visions can be taken literal (representing the physical nation of Israel), it is only in a natural sense. The church replaced Israel as the true Israel of God and Christianity replaced Judaism. The only way how Jews can become part of the real spiritual Israel is by repenting and by accepting Jesus Christ as their Savior.
Ivory
Psalm 45:8
All thy garments smell of myrrh, and aloes, and cassia, out of the ivory palaces, whereby they have made thee glad.
1 Kings 10:18
Moreover the king made a great throne of ivory, and overlaid it with the best gold.
Song of Solomon 7:4
Thy neck is as a tower of ivory; thine eyes like the fishpools in Heshbon, by the gate of Bathrabbim: thy nose is as the tower of Lebanon which looketh toward Damascus.
Revelation 18:12
The merchandise of gold, and silver, and precious stones, and of pearls, and fine linen, and purple, and silk, and scarlet, and all thyine wood, and all manner vessels of ivory, and all manner vessels of most precious wood, and of brass, and iron, and marble.
Ivory in dreams and visions symbolizes beauty and strength. It speaks of spiritual beauty and spiritual strength. Other symbols in the dream or vision will reveal more information about the particular situation.
This was an excerpt of only about 50% of symbols that is available in the paid version of the Dreams and visions symbols dictionary.
By purchasing the Dreams Dictionary, you gain the following:
You will have access to about twice as many dreams and visions symbols as online visitors (almost 1000 pages of symbols).

You have access to the Dreams and Visions Interpretation Course Manual which is exclusively available to dictionary owners as a free add-on. This manual puts the theoretical knowledge (dictionary) into practice (manual).

You have access to real-life dreams and visions which explain symbols more comprehensively.

If you registered for the free Dreams Interpretation Course, you have all the study material that you need. To effectively complete the Dreams Interpretation Course, you really do need the paid version of the dictionary and you do need the Dreams Interpretation Course Manual. Without these resources, you will be limited in your efforts to master the Biblical language of symbols.

By purchasing the dictionary, you support my ministry, which won't be possible if you don't. The selling of books is my only source of income and any writer will confirm that it is not easy to make a living solely from the sales of books.

By rating my books, you enable me to improve the quality and the standard of the books and, by doing so, you help other people to make their purchasing experience a lot easier.
You can purchase the Dreams Symbols Dictionary here:
Please take note, in order to learn the Biblical language of symbols, you need to read this information: How to interpret dreams and visions symbols correctly
There are so many people who do not know about the FREE online
Dreams Symbols Dictionary
or the FREE
Dreams Symbols Interpretation Course
! This is SAD. It has the potential to enrich their lives so much and bring them closer to God. Please make it a habit to share all our content by means of the Social Sharing Buttons at the bottom of all our pages. We are eternally grateful for that.
Click on the following letters of the alphabet for the relevant symbol that you are looking for:
Directions, movement and positions in dreams and visions
Substitution in dreams and visions
All local resources on this website are free of charge. Please help us by sharing it with your friends through the social networks. Social network sharing buttons available at the bottom of all pages