The "Dreams Dictionary" is now available to all our readers at a special discount price, and what's more; it is yours for life!
Other than the Free online Dreams Dictionary, the book will be updated regularly and will be a lot more comprehensive. Please check out all the benefits you receive on purchase of the Dictionary:
The Dreams and Visions Dictionary (Book) will be updated as new symbols and the meanings of new symbols are identified. For this reason the book's edition number or revision date will be important to take note of. Dictionary owners will always be able to download the latest edition of the Dreams Dictionary by means of the "download link" that they received when they purchased the dictionary. Keep your download link saved on your PC or on your email server. Links can be regenerated and emailed to you by requesting for it by email.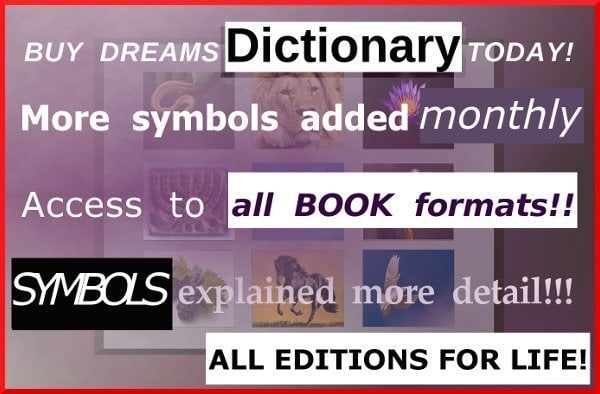 How should I use the free online dreams and visions symbols dictionary?
Read through the explanation of the meanings(s) of the particular symbol. Make sure you take note of deviations and exceptions regarding the different meanings. Record the meanings. Identify the incident that triggered the dream or the vision. This is the basis or the foundation from where you start or build your interpretation process. Before you start, you need to understand what triggered the dream or the vision. Read about this principle at this link: The Golden Key
Please take note, in order to learn the Biblical language of symbols, you need to read this information: How to interpret dreams and visions symbols correctly
Click on the following letters of the alphabet for the relevant symbol that you are looking for:
Directions, movement and positions in dreams and visions
Substitution in dreams and visions
J – Symbols (The meanings or the interpretation of most symbols in this dictionary are derived from the Bible)
Jacket
Isaiah 61:3
To appoint unto them that mourn in Zion, to give unto them beauty for ashes, the oil of joy for mourning, the garment of praise for the spirit of heaviness; that they might be called trees of righteousness, the planting of the Lord, that he might be glorified.
A jacket symbolizes the preparedness of a person pertaining to spiritual matters or spiritual situations. It also speaks of the motive or action plan that he needs to adopt when facing a specific situation. The color of the jacket can tell you which area of people's faith-walk in Christ needs to be addressed in a meeting. If a preacher dreams of a white jacket whilst he is preparing for a sermon it suggests that he needs to prepare to preach about holiness, righteousness and/or faith.
In a natural sense, a jacket symbolizes the preparedness of a person to act in certain situations. It speaks of his motives and plans or strategies to address a particular situation.
See "Clothing" for a better understanding of this symbol.
Jacket (Purple)
A purple jacket symbolizes a person who has clothed himself with praise and reconciliation.
See "Clothing" for a better understanding of this symbol.
Jacket (Red)
A red jacket symbolizes a person who prepared himself for conflict.
See "Clothing" for a better understanding of this symbol.
Jacob
Isaiah 40:11
He shall feed his flock like a shepherd: he shall gather the lambs with his arm, and carry them in his bosom, and shall gently lead those that are with young.
John 4:6-13
6 Now Jacob's well was there. Jesus therefore, being wearied with his journey, sat thus on the well: and it was about the sixth hour.
7 There cometh a woman of Samaria to draw water: Jesus saith unto her, Give me to drink.
8 (For his disciples were gone away unto the city to buy meat.)
9 Then saith the woman of Samaria unto him, How is it that thou, being a Jew, askest drink of me, which am a woman of Samaria? for the Jews have no dealings with the Samaritans.
10 Jesus answered and said unto her, If thou knewest the gift of God, and who it is that saith to thee, Give me to drink; thou wouldest have asked of him, and he would have given thee living water.
11 The woman saith unto him, Sir, thou hast nothing to draw with, and the well is deep: from whence then hast thou that living water?
12 Art thou greater than our father Jacob, which gave us the well, and drank thereof himself, and his children, and his cattle?
13 Jesus answered and said unto her, Whosoever drinketh of this water shall thirst again.
The Biblical Jacob in dreams and visions symbolizes Jesus Christ and the believers. It speaks of the spiritual church with Christ being the Head of the church. It is about the natural being replaced by the spiritual. Christ changed everything when He visited natural Israel. They never expected him to demolish the old and replacing it with something totally new. The church is born of God and it is spiritual. It is, in fact, the real Israel of God. This symbol speaks of Christ, the Supplanter. He took our place (and the Jews' place) and He replaced everything with something new.
Jasper
Revelation 4:3
And he that sat was to look upon like a jasper and a sardine stone: and there was a rainbow round about the throne, in sight like unto an emerald.
Exodus 28:20
And the fourth row a beryl, and an onyx, and a jasper: they shall be set in gold in their inclosings.
Jasper in dreams and visions symbolizes the glory of God, specifically the brightness and the beauty of his existence.
Jaws
Isaiah 30:28
And his breath, as an overflowing stream, shall reach to the midst of the neck, to sift the nations with the sieve of vanity: and there shall be a bridle in the jaws of the people, causing them to err.
Judges 15:16
And Samson said, With the jawbone of an ass, heaps upon heaps, with the jaw of an ass have I slain a thousand men.
Ezekiel 29:4
But I will put hooks in thy jaws, and I will cause the fish of thy rivers to stick unto thy scales, and I will bring thee up out of the midst of thy rivers, and all the fish of thy rivers shall stick unto thy scales.
Job 29:17
And I brake the jaws of the wicked, and plucked the spoil out of his teeth.
Jaws in dreams and visions symbolize the strength and the power to bring unrighteous people to submission. This usually speaks of nations or a group of people. Nations are even today symbolized by jaws in certain situations, especially when they are used of God to carry out his will.
Jellyfish
A jellyfish symbolizes a person who is spineless or directionless. It appears that they just float along wherever the currents of the sea take them. They resist nothing and they just go with the flow.
See "Animals" and "Creatures (Of the sea)" for a better understanding of this symbol.
Jerusalem
Hebrews 12:22-28
22 But ye are come unto mount Sion, and unto the city of the living God, the heavenly Jerusalem, and to an innumerable company of angels,
23 To the general assembly and church of the firstborn, which are written in heaven, and to God the Judge of all, and to the spirits of just men made perfect,
24 And to Jesus the mediator of the new covenant, and to the blood of sprinkling, that speaketh better things than that of Abel.
25 See that ye refuse not him that speaketh. For if they escaped not who refused him that spake on earth, much more shall not we escape, if we turn away from him that speaketh from heaven:
26 Whose voice then shook the earth: but now he hath promised, saying, Yet once more I shake not the earth only, but also heaven.
27 And this word, Yet once more, signifieth the removing of those things that are shaken, as of things that are made, that those things which cannot be shaken may remain.
28 Wherefore we receiving a kingdom which cannot be moved, let us have grace, whereby we may serve God acceptably with reverence and godly fear.
Galatians 4:6
And because ye are sons, God hath sent forth the Spirit of his Son into your hearts, crying, Abba, Father.
Revelation 3:12
Him that overcometh will I make a pillar in the temple of my God, and he shall go no more out: and I will write upon him the name of my God, and the name of the city of my God, which is new Jerusalem, which cometh down out of heaven from my God: and I will write upon him my new name.
Revelation 21:2
And I John saw the holy city, new Jerusalem, coming down from God out of heaven, prepared as a bride adorned for her husband.
Jerusalem in dreams and visions symbolizes the dwelling place of God and the saints. It is about the spiritual Israel, the Christian saints, or the spiritual Israel of God. It speaks of the foundation of peace and safety. In dreams and visions, Jerusalem is, therefore, the safe haven and dwelling place of Christians. In this sense, it has nothing to do with the natural Israel unless the symbol is to be taken literally. In such a case, it represents the physical city of Jerusalem or the Jews as a nation.
Jesus Christ
In dreams and visions, Jesus Christ symbolizes the bright Morning Star. When you see Jesus Christ in a vision or a dream it is usually a message directly from Him. These messages are sometimes straight forward. Sometimes, however, we need to interpret the symbols in these dreams and visions like with other dreams.
These "appearances" are sometimes a call for repentance. Sometimes He proves that He is the only way to life, through faith. It can also be a call for repentance of sins, dead works, false religions, and false doctrines. He is basically telling people that He, in fact, did pay for their sins with his blood on the cross of Cavalry. Sometimes Jesus gives us direct instructions in dreams, even though some of them might be in symbolic language.
Jesus Christ (Statue)
A white marble statue of Jesus Christ symbolizes that a person (or a congregation) believes in Jesus Christ and that Jesus Christ is precious to such a person or congregation. He is, however, a statue to them which indicates that they believe in the crucified Christ but not in the resurrected Christ. To him or to them Christ is not alive and He is not dwelling in our midst. Such people do not have a personal relationship of love with Christ.
Jewels
Malachi 3:17
And they shall be mine, saith the Lord of hosts, in that day when I make up my jewels; and I will spare them, as a man spareth his own son that serveth him.
1 Corinthians 3:12
Now if any man build upon this foundation gold, silver, precious stones, wood, hay, stubble.
Revelation 3:18
I counsel thee to buy of me gold tried in the fire, that thou mayest be rich; and white raiment, that thou mayest be clothed, and that the shame of thy nakedness do not appear; and anoint thine eyes with eyesalve, that thou mayest see.
Ephesians 1:18
The eyes of your understanding being enlightened; that ye may know what is the hope of his calling, and what the riches of the glory of his inheritance in the saints.
All sorts of jewels symbolize all sorts of spiritual riches and blessings. See the meanings of all the different precious metals and precious stones in this dictionary for more specific information on these symbols.
In another sense, it symbolizes how precious people are to God. We are like the most expensive and most precious stones to him. In this sense, it speaks of value.
Job
James 5:11
Behold, we count them happy which endure. Ye have heard of the patience of Job, and have seen the end of the Lord; that the Lord is very pitiful, and of tender mercy.
The Biblical Job in dreams and visions symbolizes Christians who went through a lot of trials and persecution and suffering and who displayed much patience whilst going through these hardships. This speaks of people who are faithful and who utterly trust God no matter what they hear or see or feel all around them. It speaks of perseverance in the midst of harsh trials and tribulation.
Jonah
Mathews 12:40
For as Jonas(h) was three days and three nights in the whale's belly; so shall the Son of man be three days and three nights in the heart of the earth.
Luke 11:30
For as Jonas(h) was a sign unto the Ninevites, so shall also the Son of man be to this generation.
Mathews 16:4
A wicked and adulterous generation seeketh after a sign; and there shall no sign be given unto it, but the sign of the prophet Jonas(h). And he left them, and departed.
The Biblical Jonah in dreams and visions symbolizes the death, the burial, and the resurrection of Jesus Christ. It also symbolizes ministry among the Gentiles.
Jordan
2 Kings 5:10
And Elisha sent a messenger unto him, saying, Go and wash in Jordan seven times, and thy flesh shall come again to thee, and thou shalt be clean.
Mark 1:9
And it came to pass in those days, that Jesus came from Nazareth of Galilee, and was baptized of John in Jordan.
The Jordan River in dreams and visions symbolizes the descending, the dying of oneself and the going down of a person. It speaks of Christians submitting themselves to God and his will.
Joseph
Acts 7:9
And the patriarchs, moved with envy, sold Joseph into Egypt: but God was with him.
Psalm 105:16-22
16 Moreover he called for a famine upon the land: he brake the whole staff of bread.
17 He sent a man before them, even Joseph, who was sold for a servant:
18 Whose feet they hurt with fetters: he was laid in iron:
19 Until the time that his word came: the word of the Lord tried him.
20 The king sent and loosed him; even the ruler of the people, and let him go free.
21 He made him lord of his house, and ruler of all his substance:
22 To bind his princes at his pleasure; and teach his senators wisdom.
Acts 2:36
Therefore let all the house of Israel know assuredly, that God hath made the same Jesus, whom ye have crucified, both Lord and Christ.
Luke 1:32-22
32 He shall be great, and shall be called the Son of the Highest: and the Lord God shall give unto him the throne of his father David:
33 And he shall reign over the house of Jacob for ever; and of his kingdom there shall be no end.
The Biblical Joseph in dreams and visions symbolizes Jesus Christ, the rejected but exalted and beloved Son of God with a gentile bride (the church).
Joshua
Joshua 1:5
There shall not any man be able to stand before thee all the days of thy life: as I was with Moses, so I will be with thee: I will not fail thee, nor forsake thee.
Acts 7:45
Which also our fathers that came after brought in with Jesus into the possession of the Gentiles, whom God drave out before the face of our fathers, unto the days of David.
Hebrews 4:8
For if Jesus had given them rest, then would he not afterward have spoken of another day.
Acts 28:3-5
3 And when Paul had gathered a bundle of sticks, and laid them on the fire, there came a viper out of the heat, and fastened on his hand.
4 And when the barbarians saw the venomous beast hang on his hand, they said among themselves, No doubt this man is a murderer, whom, though he hath escaped the sea, yet vengeance suffereth not to live.
5 And he shook off the beast into the fire, and felt no harm.
The Biblical Joshua in dreams and visions symbolizes Jesus Christ our Captain and Savior. It speaks of him being our Leader, leading us into our inheritance. He is the one who defeated all our foes and who caused us to be victorious in this life over all circumstances and on all levels. Dreaming of Joshua speaks of this aspect of our faith-walk in Christ. We as born again Christians are supposed to live in divine health, divine protection, divine provision, and divine maintenance if succeed in taking up our whole inheritance (the full 100% and not just the 10% that the nation of Israel did).
If we are willing and courageous Jesus Christ will lead us into the ultimate victory. You know that you have made it the moment you just "literally" shake off the snake that just bit you, just like Paul did on the island of Malta. That is the ultimate proof of trust, faith, and victory. When you do not fear anything life and you know that you can face anything in life. I am not joking, I am absolutely dead serious.
Judas Iscariot
John 17:12
While I was with them in the world, I kept them in thy name: those that thou gavest me I have kept, and none of them is lost, but the son of perdition; that the scripture might be fulfilled.
2 Thessalonians 2:3-8
3 Let no man deceive you by any means: for that day shall not come, except there come a falling away first, and that man of sin be revealed, the son of perdition;
4 Who opposeth and exalteth himself above all that is called God, or that is worshipped; so that he as God sitteth in the temple of God, shewing himself that he is God.
5 Remember ye not, that, when I was yet with you, I told you these things?
6 And now ye know what withholdeth that he might be revealed in his time.
7 For the mystery of iniquity doth already work: only he who now letteth will let, until he be taken out of the way.
8 And then shall that Wicked be revealed, whom the Lord shall consume with the spirit of his mouth, and shall destroy with the brightness of his coming.
Revelation 17:11
And the beast that was, and is not, even he is the eighth, and is of the seven, and goeth into perdition.
The Biblical Judas Iscariot in dreams and visions speaks of a person or group of people who are betraying others and who are betraying Jesus Christ.
There is a lot of misunderstandings about this aspect of this symbol. It is important to understand that Jesus Christ was betrayed by Judas Iscariot with a kiss for 30 pieces of silver. This act was the prophetic and "legal" act that made this betrayal so significant. Like Joseph of old, Christ had to be "sold" and "betrayed" to be crucified as an "innocent" man. He had to be innocent to legally qualify to be sacrificed as a perfect Lamb for the sins of mankind. This is what made Judas' act so important.
It is, however, important to understand that Jesus Christ can never be betrayed in this way again. It was done once and it cannot be done again. So no, you are not like Judas.
The betrayal that I mentioned at the start of this explanation (which is still possible today) is what Paul warned the church against right at the beginning of the Church-age. He was warning of false prophets who will come, who were already there at the time he gave them this warning, that will preach another gospel and who will bring people back into bondage by returning to legalism (Judaism). That is the betrayal that this symbol is all about. It has nothing to do with blaspheming against the Holy Spirit and people who are guilty of this can repent and they can follow Jesus Christ again with their whole hearts. Even those who betray him by leading many people into legalism can repent and follow Christ again in spirit and in truth.
This was an excerpt of only about 50% of symbols that is available in the paid version of the Dreams and visions symbols dictionary.
By purchasing the Dreams Dictionary, you gain the following:
You will have access to about twice as many dreams and visions symbols as online visitors (almost 1000 pages of symbols).

You have access to the Dreams and Visions Interpretation Course Manual which is exclusively available to dictionary owners as a free add-on. This manual puts the theoretical knowledge (dictionary) into practice (manual).

You have access to real-life dreams and visions which explain symbols more comprehensively.

If you registered for the free Dreams Interpretation Course, you have all the study material that you need. To effectively complete the Dreams Interpretation Course, you really do need the paid version of the dictionary and you do need the Dreams Interpretation Course Manual. Without these resources, you will be limited in your efforts to master the Biblical language of symbols.

By purchasing the dictionary, you support my ministry, which won't be possible if you don't. The selling of books is my only source of income and any writer will confirm that it is not easy to make a living solely from the sales of books.

By rating my books, you enable me to improve the quality and the standard of the books and, by doing so, you help other people to make their purchasing experience a lot easier.
You can purchase the Dreams Symbols Dictionary here:
Please take note, in order to learn the Biblical language of symbols, you need to read this information: How to interpret dreams and visions symbols correctly
There are so many people who do not know about the FREE online
Dreams Symbols Dictionary
or the FREE
Dreams Symbols Interpretation Course
! This is SAD. It has the potential to enrich their lives so much and bring them closer to God. Please make it a habit to share all our content by means of the Social Sharing Buttons at the bottom of all our pages. We are eternally grateful for that.
Click on the following letters of the alphabet for the relevant symbol that you are looking for:
Directions, movement and positions in dreams and visions
Substitution in dreams and visions
All local resources on this website are free of charge. Please help us by sharing it with your friends through the social networks. Social network sharing buttons available at the bottom of all pages