The "Dreams Dictionary" is now available to all our readers at a special discount price, and what's more; it is yours for life!
Other than the Free online Dreams Dictionary, the book will be updated regularly and will be a lot more comprehensive. Please check out all the benefits you receive on purchase of the Dictionary:
The Dreams and Visions Dictionary (Book) will be updated as new symbols and the meanings of new symbols are identified. For this reason the book's edition number or revision date will be important to take note of. Dictionary owners will always be able to download the latest edition of the Dreams Dictionary by means of the "download link" that they received when they purchased the dictionary. Keep your download link saved on your PC or on your email server. Links can be regenerated and emailed to you by requesting for it by email.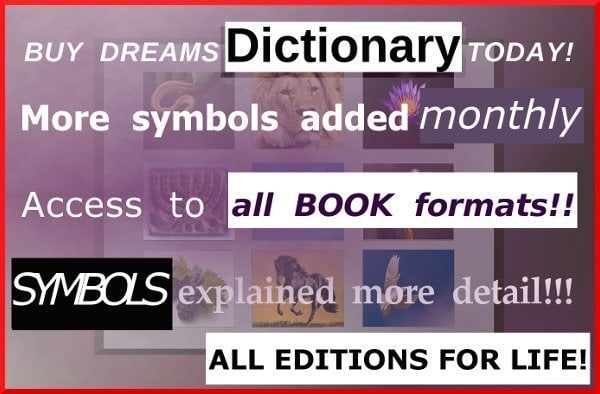 Please take note, in order to learn the Biblical language of symbols, you need to read this information: How to interpret dreams and visions symbols correctly
Click on the following letters of the alphabet for the relevant symbol that you are looking for:
A B C D E F G H I J K L M N O P Q R S T U V W Y
Directions, movement and positions in dreams and visions
Substitution in dreams and visions
K – Symbols (The meanings or the interpretation of most symbols in this dictionary are derived from the Bible)
Keys
In dreams and visions, keys symbolizes spiritual or natural authority and responsibility. A person with a key in his hand which is able to unlock important spiritual doors speaks of a God-given authority. With authority comes responsibility. God enables us to carry out what we have been called for. He calls us, He anoints us, He equips us and He opens doors for us. These doors are all God-given opportunities and it leads to blessings, breakthroughs and opportunities to enhance the kingdom of God. Keys unlocks the riches of God and it unlocks the secrets of God.
In a natural sense keys open doors of opportunities in business or in a work situation. This speaks of open doors of financial opportunities or God-given material prosperity.
Please remember that keys are used to open many things. Doors, vehicles, safes, buildings, gates and many other objects and structures can be unlocked with a key. The characteristics of the key itself as well as the structure, equipment or object that it opens will reveal more information about the meaning of the dream and vision.
Keys (Money safe)
The keys to a money safe symbolizes financial authority and responsibility. Additional symbols will reveal more information on the meaning of the dream or vision in terms of the circumstances or influential factors about the doors that is opening or the ministries or business opportunities materializing.
See "Keys".
Keys (Vehicles)
Vehicle keys symbolize opportunities (authority and responsibility) in terms of ministries, businesses, etc. See "Vehicles" for a better understanding of this symbol.
See "Keys".
Kidnapper
A kidnapper in dreams and visions symbolizes the devil or evil spirits or the people that they influence and control. This is true for all sorts of people who commit criminal acts in dreams and visions. Murderers, thieves, hijackers, kidnappers and any other criminal in dreams or visions speak of the evil spirits or evil people behind demonic or other attacks on Christians or people.
Kidney
Kidneys symbolize the conscience of a person. It is closely related to the repentance of sins and wrong things in a person's life. See "Toilet (urinating)". The kidneys play a part in removing impurities from our blood which is separated by the kidneys and taken to the uterus. This happens in a spiritual sense as well. When we dream we are urinating it speaks of us repenting and cleansing ourselves from specific sins in our lives. The conditions of kidneys indicates the condition of our conscience.
See "Blood", "Kidney (Left)", "Kidney (Right)" and "Veins".
Kidney (Left)
A left kidney symbolizes a person who despises himself or who is self-conscious or who lives under condemnation because of sins (impurity) in his life. This often speaks of a specific situation or specific sin in a person's life.
Kidney (Damaged)
A damaged kidney speaks of a person who struggles with sins in his life because of such a person being unable to resist those sins. Such a person needs deliverance (Casting out of demons and good solid Biblical counseling). See "Veins (Damaged)".
Kidney (Right)
A right kidney symbolizes a person who has a clear conscious and who is delivered from self-consciousness and condemnation. This often speaks of a specific situation or specific sin in a person's life where it used to be the opposite.
There are so many people who do not know about the FREE online Dreams Symbols Dictionary or the FREE Dreams Symbols Interpretation Course! This is SAD. It has the potential to enrich their lives so much and bring them closer to God. Please make it a habit to share all our content by means of the Social Sharing Buttons at the bottom of all our pages. We are eternally grateful for that.
King
In dreams and visions a king symbolizes a person who is spiritually mature. Such a person has succeeded in overcoming the circumstances in his life. He reigns as a king in his sphere of influence and over all circumstances in his life. It speaks of a person who knows the principles and laws of the kingdom of God. It speaks of a person who learned to apply the word of God and the principles of God in the kingdom of God.
Kissing
Whenever you see a person in a dream or a vision kissing you or throwing kisses at you it speaks of you having favor in the eyes of such a person. A friend of mine once had a dream of him sitting on a toilet (passing solids) when a person he knows entered the room and gave him a kiss whilst he was still on the toilet doing his "business". In the dream the specific person did not mind the smell at all. This speaks of the specific person favoring a certain person, in this case my friend, irrespective of the emotional garbage and shortcomings in his life (See "Toilet (Passing solids)". My friend immediately knew that he could trust the specific person and that the person would act in his best interest no matter what. See "Embracing".

Kitchen
A kitchen symbolizes a place of preparation of the word of God in order to be taught or to be preached. This is where any person or any group of people prepares for teaching the word of God. They prepare the word and then they move out to teach it. A school symbolizes the place where we learn the ways and the word of God and a dining room or a restaurant symbolizes the place where people are taught.
Knee
A knee symbolizes the willingness or unwillingness to bow to God in a specific situation. The knee speaks of the level of obedience in general or most often in a specific situation.
Knee (Left)
A left knee symbolizes a person who is willing to bow in situations of fleshly desires, bad influences and weaknesses. Such a person easily gives in to temptations and the desires of the flesh.
Knee (Right)
A right knee symbolizes a person who is willing to bow or to yield towards God's plans and God's will. In the dream it might speak of a specific situation and not so much in general. Such a person hears and do the word and the will of God. They are obedient.
Knife
Like a sword and a dagger, a knife speaks of the Word of God. See "Sword" for a better understanding of this symbol.
Please take note, in order to learn the Biblical language of symbols, you need to read this information: How to interpret dreams and visions symbols correctly
Click on the following letters of the alphabet for the relevant symbol that you are looking for:
A B C D E F G H I J K L M N O P Q R S T U V W Y
Directions, movement and positions in dreams and visions
Substitution in dreams and visions
All local resources on this website are free of charge. Please help us by sharing it with your friends through the social networks. Social network sharing buttons available at the bottom of all pages