The "Dreams Dictionary" is now available to all our readers at a special discount price, and what's more; it is yours for life!
Other than the Free online Dreams Dictionary, the book will be updated regularly and will be a lot more comprehensive. Please check out all the benefits you receive on purchase of the Dictionary:
The Dreams and Visions Dictionary (Book) will be updated as new symbols and the meanings of new symbols are identified. For this reason the book's edition number or revision date will be important to take note of. Dictionary owners will always be able to download the latest edition of the Dreams Dictionary by means of the "download link" that they received when they purchased the dictionary. Keep your download link saved on your PC or on your email server. Links can be regenerated and emailed to you by requesting for it by email.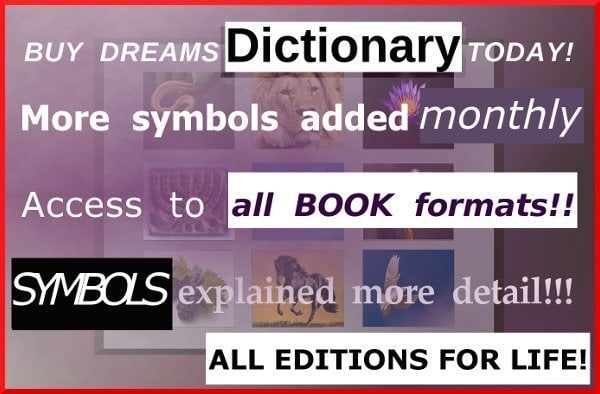 Please take note, in order to learn the Biblical language of symbols, you need to read this information: How to interpret dreams and visions symbols correctly
Click on the following letters of the alphabet for the relevant symbol that you are looking for:
A B C D E F G H I J K L M N O P Q R S T U V W Y
Directions, movement and positions in dreams and visions
Substitution in dreams and visions
N – Symbols (The meanings or the interpretation of most symbols in this dictionary are derived from the Bible)
Nails
In dreams and visions a nail symbolizes a word of wisdom firmly fixed into our minds.
Nakedness
In a spiritual sense nakedness in dreams and visions speaks of a person not being adequately prepared for ministry. If you dream that you stand in front of people without being adequately dressed it means that you did not adequately prepare for your sermon or for the meeting. If you struggle to hide your nakedness it means that you have been exposed not to be adequately prepared for whatever you had to or need to do.
In another sense nakedness symbolize the state of mankind in the eyes of God when it comes to salvation. Like Adam and Eve, who were found naked after they sinned, so were every human being before they accepted Jesus Christ as their personal Savior. A friend of mine once had a dream of him being naked. In the dream he had to go wright an exam. He attempted to cover himself with a piece of paper in order to do that. To him it seemed that the paper was able to cover his nakedness. The reality is that we cannot cover our sins with mere theoretical Bible knowledge. It is actually what Adam and Eve attempted to do with the fig leaves. This person thought that theoretical (head salvation) was enough. We need a true Biblical salvation (heart salvation) which can only be achieved when we truly accept Jesus Christ as our Savior by truly repenting and truly making an about turn in our lives. That is when God clothes us with the white garment of salvation.
See "Clothing" for a better understanding of this symbol.
Neck
The neck of a person speaks of the responsibility or the yoke that's been put on a person. It speaks of the willingness or the unwillingness of a person or a group of people to cooperate in a certain situation. To be on the neck of another person speaks of having authority over the specific person.
Neck (Stiff-necked person)
A stiff-necked person is a person who is unyielding and not willing to co-operate or to bow in a certain situation.
Night
Night symbolizes unbelief, evil and demonic activities. Whenever the events in our dreams take place during the night, in dark places and dusky areas, it speaks of unbelief, evil and demonic activities.
North
North in dreams and visions symbolizes the place of God's throne. When you dream of a call to move north it means God is calling you to visit him in his throne room. It is a call for intimacy. God wants to meet with you. It also speaks of God's power, his majesty and the taking up of your inheritance in Christ. It speaks of us being seated at the right hand side of God in Christ Jesus from where we reign with and in Christ on the throne of Christ.
Nose
In dreams and visions a nose speaks of the spiritual ability to discern hidden things and hidden attitudes. A big nose speaks of a strong ability to discern spiritual attitudes and the nature of spirits (human spirits or demonic spirits). The emphasis is the discernment of spirits. It is all about the hidden attitudes of spirits (people and the presence of demons).
In a negative sense a nose can symbolize a person who has been led by his nose or his own desires. This has nothing to do with the discernment of spirits but everything to do with a person who is led by his own desires and suspicions.
There are so many people who do not know about the FREE online Dreams Symbols Dictionary or the FREE Dreams Symbols Interpretation Course! This is SAD. It has the potential to enrich their lives so much and bring them closer to God. Please make it a habit to share all our content by means of the Social Sharing Buttons at the bottom of all our pages. We are eternally grateful for that.
Nurse
See "Doctor".
Please take note, in order to learn the Biblical language of symbols, you need to read this information: How to interpret dreams and visions symbols correctly
Click on the following letters of the alphabet for the relevant symbol that you are looking for:
A B C D E F G H I J K L M N O P Q R S T U V W Y
Directions, movement and positions in dreams and visions
Substitution in dreams and visions
All local resources on this website are free of charge. Please help us by sharing it with your friends through the social networks. Social network sharing buttons available at the bottom of all pages