The "Dreams Dictionary" is now available to all our readers at a special discount price, and what's more; it is yours for life!
Other than the Free online Dreams Dictionary, the book will be updated regularly and will be a lot more comprehensive. Please check out all the benefits you receive on purchase of the Dictionary:
The Dreams and Visions Dictionary (Book) will be updated as new symbols and the meanings of new symbols are identified. For this reason the book's edition number or revision date will be important to take note of. Dictionary owners will always be able to download the latest edition of the Dreams Dictionary by means of the "download link" that they received when they purchased the dictionary. Keep your download link saved on your PC or on your email server. Links can be regenerated and emailed to you by requesting for it by email.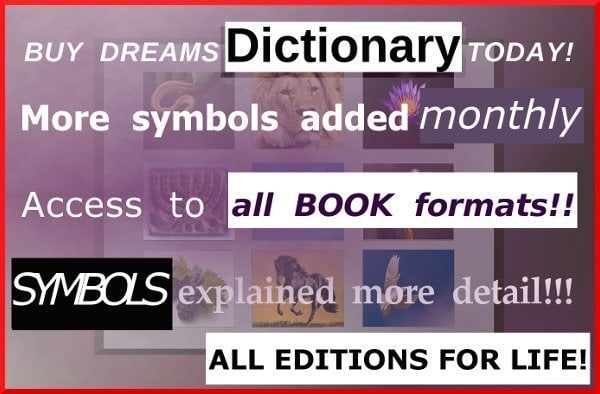 How should I use the free online dreams and visions symbols dictionary?
Read through the explanation of the meanings(s) of the particular symbol. Make sure you take note of deviations and exceptions regarding the different meanings. Record the meanings. Identify the incident that triggered the dream or the vision. This is the basis or the foundation from where you start or build your interpretation process. Before you start, you need to understand what triggered the dream or the vision. Read about this principle at this link: The Golden Key
Please take note, in order to learn the Biblical language of symbols, you need to read this information: How to interpret dreams and visions symbols correctly
Click on the following letters of the alphabet for the relevant symbol that you are looking for:
Directions, movement and positions in dreams and visions
Substitution in dreams and visions
P – Symbols (The meanings or the interpretation of most symbols in this dictionary are derived from the Bible)
Packet
When we receive a packet from a person in dreams it speaks of more than a message. In dreams and visions, a message is symbolized by a letter.
A packet in dreams and visions symbolizes a gift, good or bad. We receive good gifts from God and good people and bad gifts from the devil and bad people. It is important to check the meanings of other symbols in the dream or vision for a better understanding of the particular gift that we received or about to receive.
Pajamas
A person wearing pajamas in dreams and visions symbolizes that a person or a group of people are spiritually not ready for ministry. It speaks of that person spiritually not prepared for ministry because of that person being inactive for some reason.
In a natural sense, pajamas symbolize a person not being prepared for work or a job because of them being inactive in terms of preparing themselves for a particular job or position.
See "Sleep" and "Bed" and "Bedroom" for more information about this symbol.
Palace
Psalm 45:8
All thy garments smell of myrrh, and aloes, and cassia, out of the ivory palaces, whereby they have made thee glad.
Psalm 78:69
And he built his sanctuary like high palaces, like the earth which he hath established for ever.
John 14:1-2
1 Let not your heart be troubled: ye believe in God, believe also in me.
2 In my Father's house are many mansions: if it were not so, I would have told you. I go to prepare a place for you.
Palaces in dreams and visions symbolize God's heavenly dwelling place. It speaks of royalty, majesty, and beauty. It speaks of permanence and sustainability.
Pale
Revelation 6:8
And I looked, and behold a pale horse: and his name that sat on him was Death, and Hell followed with him. And power was given unto them over the fourth part of the earth, to kill with sword, and with hunger, and with death, and with the beasts of the earth.
Jeremiah 30:6
Ask ye now, and see whether a man doth travail with child? wherefore do I see every man with his hands on his loins, as a woman in travail, and all faces are turned into paleness.
Isaiah 29:22
Therefore thus saith the LORD, who redeemed Abraham, concerning the house of Jacob, Jacob shall not now be ashamed, neither shall his face now wax pale.
A pale face or a pale person in dreams and visions symbolizes spiritual death and/or spiritual diseases. It speaks of spiritual deterioration and/or a person or a congregation losing spiritual ground. It means that there is no spiritual growth of development in the life of such a person or group of people like a congregation or a church.
Palm tree
See "Tree (Palm)"
Palm tree branches
See "Tree (Branches)"
Palmerworm
Joel 1:4
That which the palmerworm hath left hath the locust eaten; and that which the locust hath left hath the cankerworm eaten; and that which the cankerworm hath left hath the caterpiller eaten.
Joel 2:25
And I will restore to you the years that the locust hath eaten, the cankerworm, and the caterpiller, and the palmerworm, my great army which I sent among you.
Amos 4:9
I have smitten you with blasting and mildew: when your gardens and your vineyards and your fig trees and your olive trees increased, the palmerworm devoured them: yet have ye not returned unto me, saith the LORD.
Like other insects of mass destruction, the palmerworm symbolizes destructive powers. A dream of palmer-worms is a warning. It speaks of circumstances that are coming that will cause financial destruction if something is not done that can prevent it from happening.
See "Locust" for a better understanding of this symbol.
Parachute
A parachute symbolizes a person who leaves his current work or ministry or occupation descending on a new destination. It also speaks of a person getting out of a spiritual ministry. It usually speaks of a situation where a person leaves his job or work situation suddenly.
In another sense, a parachute speaks of a person who is fearless and with the courage to approach something new.
In a negative sense, a parachute speaks of a person who is quitting (giving up or bailing out) and escaping the previous situation.
The colors of parachutes in dreams and visions indicate the reasons or the emotions involved when people are bailing out of situations or leaving work situations.
Paradise
Revelation 2:7
He that hath an ear, let him hear what the Spirit saith unto the churches; To him that overcometh will I give to eat of the tree of life, which is in the midst of the paradise of God.
2 Corinthians 12:2-4
2 I knew a man in Christ above fourteen years ago, (whether in the body, I cannot tell; or whether out of the body, I cannot tell: God knoweth;) such an one caught up to the third heaven.
3 And I knew such a man, (whether in the body, or out of the body, I cannot tell: God knoweth;)
4 How that he was caught up into paradise, and heard unspeakable words, which it is not lawful for a man to utter.
Paradise in dreams and visions symbolizes heaven. It speaks of God's dwelling place or the holiest place in the universe (the third heaven).
Parents
Parents in dreams and visions symbolize God (Father God) and the Holy Spirit (Mother).
In a natural sense, parents in dreams and visions are to be taken literally because of them representing themselves in dreams and visions.
In another sense, parents in dreams and visions symbolize people whom we respect. It represents people who feel like a father or a mother to us. In this sense, it speaks of people whom we look up to or people that we respect. It can be members of our family but it can be non-relatives as well.
Party
A party in dreams and visions symbolizes a celebration in the Lord Jesus Christ. When it is about singing and dancing it speaks of us celebrating God for who He is. It is about thanksgiving, praising and worshiping God. When food is involved it is about us celebrating God and his word.
See "Food"
Passenger
See "Vehicle (Passenger)"
Passover
Exodus 12:11
And thus shall ye eat it; with your loins girded, your shoes on your feet, and your staff in your hand; and ye shall eat it in haste: it is the LORD'S passover.
1 Corinthians 5:7
Purge out therefore the old leaven, that ye may be a new lump, as ye are unleavened. For even Christ our passover is sacrificed for us.
John 1:29,36
29 The next day John seeth Jesus coming unto him, and saith, Behold the Lamb of God, which taketh away the sin of the world.
36 And looking upon Jesus as he walked, he saith, Behold the Lamb of God!
Romans 3:25-26
25 Whom God hath set forth to be a propitiation through faith in his blood, to declare his righteousness for the remission of sins that are past, through the forbearance of God;
26 To declare, I say, at this time his righteousness: that he might be just, and the justifier of him which believeth in Jesus.
The Biblical Passover in dreams and visions symbolizes the deliverance from the bondage of satan and from sin because of what Jesus did for us on the cross. It is about him being the Lamb of God. It speaks of him paying for our sins with his own blood.
Pasture
Psalm 79:13
So we thy people and sheep of thy pasture will give thee thanks for ever: we will shew forth thy praise to all generations.
Psalm 95:7
For he is our God; and we are the people of his pasture, and the sheep of his hand. To day if ye will hear his voice.
Jeremiah 23:1
Woe be unto the pastors that destroy and scatter the sheep of my pasture! saith the LORD.
Lamentations 1:6
And from the daughter of Zion all her beauty is departed: her princes are become like harts that find no pasture, and they are gone without strength before the pursuer.
Ezekiel 34:14
I will feed them in a good pasture, and upon the high mountains of Israel shall their fold be: there shall they lie in a good fold, and in a fat pasture shall they feed upon the mountains of Israel.
John 10:1
Verily, verily, I say unto you, He that entereth not by the door into the sheepfold, but climbeth up some other way, the same is a thief and a robber.
Psalm 23:2
He maketh me to lie down in green pastures: he leadeth me beside the still waters.
Pastures in dreams and visions symbolize the spiritual feeding ground of Christians, who are symbolized by sheep. Green lushly pastures, therefore, symbolize spiritual blessings. It speaks of really good spiritual food.
Path
A path or a road in dreams and visions symbolizes life's journey. In most cases, the road or the path speaks of a specific situation or a specific aspect in terms of the different journeys that we take in life. However, sometimes it does speak of the complete journey of life. It all depends on what you prayed about or what the subject of the specific dream was.
Unlike "roads", which represents a broader or general aspect of our journeys in life, a small "path" speaks of a more specific or personal aspect in our lives.
See "Street" and "Roads" for a better understanding of this symbol.
Paw
1 Samuel 17:37
David said moreover, The LORD that delivered me out of the paw of the lion, and out of the paw of the bear, he will deliver me out of the hand of this Philistine. And Saul said unto David, Go, and the LORD be with thee.
Leviticus 11:26
The carcases of every beast which divideth the hoof, and is not clovenfooted, nor cheweth the cud, are unclean unto you: every one that toucheth them shall be unclean.
A paw in dreams and visions speaks of unclean power. It speaks of a powerful person who rejected Jesus Christ and who is evil and aggressive and evil. The power is usually because of a strong financial situation or another social or political situation, or status, that gives such a person power.
In another sense, it speaks of a nation that rejected Jesus Christ and it speaks of nations with evil motives. When strong nations are violent or aggressive and evil in their motivations and actions, they are symbolized by a paw.
See "Hand" and "Arm" for a better understanding of this symbol.
Pawpaw (Fruit of the Spirit)
Pawpaw symbolizes meekness in a person or a group of people. It is one of the fruits of the Spirit.
Peace
A positive feeling of peace in dreams and visions symbolizes an assurance from God that He is there, He has our backs covered and that all is well in terms of the specific aspect or situation in the dream, or in general. It sometimes symbolizes God's approval in a dream or a vision when we make the right decisions in dreams.
Peace offering
Colossians 1:20
And, having made peace through the blood of his cross, by him to reconcile all things unto himself; by him, I say, whether they be things in earth, or things in heaven.
John 14:27
Peace I leave with you, my peace I give unto you: not as the world giveth, give I unto you. Let not your heart be troubled, neither let it be afraid.
Romans 16:20
And the God of peace shall bruise Satan under your feet shortly. The grace of our Lord Jesus Christ be with you. Amen.
Ephesians 2:14-17
14 For he is our peace, who hath made both one, and hath broken down the middle wall of partition between us;
15 Having abolished in his flesh the enmity, even the law of commandments contained in ordinances; for to make in himself of twain one new man, so making peace;
16 And that he might reconcile both unto God in one body by the cross, having slain the enmity thereby:
17 And came and preached peace to you which were afar off, and to them that were nigh.
A peace offering in dreams and visions symbolizes Christ Jesus the Peace-Maker and the "Reconciler" between God and man.
Peacock
A peacock in dreams and visions is a symbol of a person who likes to show off. It symbolizes a sort of pride or arrogance leading to boasting and putting peoples attention on whatever such a person achieved in life and in specific situations.
See "Animals" and "Creatures (Of the land)" for a better understanding of this symbol.
Pear
A pear symbolizes a person with a meek spirit. It is one of the fruits of the Spirit.
Pearl
Matthew 7:6
Give not that which is holy unto the dogs, neither cast ye your pearls before swine, lest they trample them under their feet, and turn again and rend you.
Matthew 13:45-46
45 Again, the kingdom of heaven is like unto a merchant man, seeking goodly pearls:
46 Who, when he had found one pearl of great price, went and sold all that he had, and bought it.
Revelation 21:21
And the twelve gates were twelve pearls; every several gate was of one pearl: and the street of the city was pure gold, as it were transparent glass.
A pearl in dreams and visions symbolizes God's truths. The word of God, when we understand and accept it in our hearts and in our spirits, has tremendous potential and it is extremely powerful and valuable. It completely changes our lives. Therefore, a pearl in dreams and visions symbolizes truths and spiritual riches. These truths take possession of our spirits in a gradual way. It slowly becomes part of us and of our lives, layer for layer, until it becomes or develops into a hard and strong "precious stone".
In another sense, it symbolizes God's people formed through suffering. In this sense, it speaks of God's people being changer for the better, little by little, because of suffering and hardship.
Pelican
Psalm 102:6-7
6 I am like a pelican of the wilderness: I am like an owl of the desert.
7 I watch, and am as a sparrow alone upon the house top.
A pelican in dreams and visions symbolizes a lonely person. It speaks of a lonely spirit.
See "Birds"
Pen
Philippians 3:13
Brethren, I count not myself to have apprehended: but this one thing I do, forgetting those things which are behind, and reaching forth unto those things which are before.
Philippians 4:8
Finally, brethren, whatsoever things are true, whatsoever things are honest, whatsoever things are just, whatsoever things are pure, whatsoever things are lovely, whatsoever things are of good report; if there be any virtue, and if there be any praise, think on these things.
Colossians 3:16
Let the word of Christ dwell in you richly in all wisdom; teaching and admonishing one another in psalms and hymns and spiritual songs, singing with grace in your hearts to the Lord.
A writing pen is used to write things down. We actually record things so that we do not forget it. A pen in dreams and visions, therefore, symbolizes us pondering on past events and past incidents. The color of the pen will reveal more detail on the nature of the things we are pondering on.
Pen (Catching fire while someone writes with it)
A pen catching fire while writing with it speaks of the anointing of God on a person to write books or something similar. It is a request from God to write a spiritual book or to record things under the anointing of the Holy Spirit.
Pen (Black)
A black pen speaks of a person who remembers or ponders upon negative reports or testimonies resulting in fear and unbelief and depression.
Pen (Golden)
A golden pen speaks of a person who gives testimonies of things he experienced which inspire faith.
Pen (Red)
A red pen speaks of a person who tends to remember past conflicts, problems, bad experiences, and disasters.
Pen (White)
A white pen speaks of a person who gives testimonies which brings victory and righteousness.
Pencil
A pencil speaks of a person who only remembers good testimonies on a short-term basis. Such people are like the Israelites in the desert who, after they left Egypt, continuously and quickly forgot what God has done for them.
In a positive sense, it speaks of a person who quickly discards and removes negative occurrences or reports from his mind. Such a person does not bring up bad things of the past.
Penguin
Romans 6:23
For the wages of sin is death; but the gift of God is eternal life through Jesus Christ our Lord.
Penguin males sit on an egg and wait for it to incubate for up to 68 days. They sit their continuously in the cold without being relieved and without eating anything. Even after the female returns from the sea, the male has to feed the chick although he has not eaten for months. Penguin males really suffer to incubate and raise a penguin chick.
A penguin in dreams and visions, therefore, symbolizes a person who relies on personal martyrdom by denying themselves a lot of things to achieve justification instead of relying on the blood of Jesus Christ through faith and through grace.
See "Animals" and "Creatures (Of the sea)" for a better understanding of this symbol.
Perfume
Perfume symbolizes a person who is pleasing God with his life. This indicates that this person's life is a sweet and wonderful fragrance to God.
Person
See "Man" and "Woman"
Petrol
See "Vehicle (Fuel)"
Pharmacy
Medicine in dreams and visions symbolizes the word of God that has the ability to cause or to ensure healing in a physical sense or in a spiritual sense. People need healing in their bodies but they also need mental healing as well as emotional healing. Medicine is, therefore, powerful words regarding divine healing. Medicine is not food but it is still a substance that is taken in by the mouth and absorbed in our digestive system. In this sense, "medicine", in dreams and visions, are special words of healing (word of God), prepared for a specific person for a specific substandard condition (sickness, disease, mental condition or emotional condition).
A pharmacy in dreams and visions symbolizes a spiritual place where medicine can be obtained. It speaks of a specific congregation or a specific group of people or a ministry who specializes in divine healing and doctrines about divine healing. It is a place where the "right words" can be obtained in order to administer healing.
See "Medicine" and see "Balm" for a better understanding of this symbol.
Photo
A meaning of a photo is very similar to the meaning of a photo album but it reflects a person's identity or true reflection in terms of a specific aspect and not in terms of his whole life.
See "Photo album" and "Old (Movie)"
Photo album
A photo album symbolizes the true identity of a person. The fact that it is not only one photo but a whole album of photos, especially when you dream of baby photos of a grown person, it speaks of exposing or reflecting the true identity of such a person. It tells you from where this person comes from and who and what he is.
A woman I know once had a dream of a specific person. This person was a stranger to her. In the dream, she was concerned about the person's character. She then dreamed that this person "currently" sleeps in a tent and that there are two baby photo albums, of this person, on the floor of the tent underneath his clothes and private belongings. Underneath private belongings suggests that he covers or hides his true identity. In the dream, she knew that she needed to check out these photo albums before she gets involved with this person. The significance of two albums symbolizes the fact that she must do a double check on this person. This was a warning not to be hasty getting involved with this person but to be cautious and to check him out thoroughly. This probably suggested that there was something wrong with this person.
See "Old (Movie)"
Pick (Garden)
See "Garden (Pick)"
Pig
2 Peter 2:22
But it is happened unto them according to the true proverb, The dog is turned to his own vomit again; and the sow that was washed to her wallowing in the mire.
A pig symbolizes a person (Christian) who is backsliding. When a person who was once cleansed from unrighteousness, sin and other fleshly desires, returns to his previous ways, he is like a pig who returns to wallowing in the mire. Domestic pigs, like domestic dogs, symbolize a Christian that is backsliding. It does not speak of unsaved people.
See "Animals" for a better understanding of this symbol.
Piles
See "Hemorrhoids"
Pillar
Jeremiah 1:18
For, behold, I have made thee this day a defenced city, and an iron pillar, and brasen walls against the whole land, against the kings of Judah, against the princes thereof, against the priests thereof, and against the people of the land.
1 Timothy 3:15
But if I tarry long, that thou mayest know how thou oughtest to behave thyself in the house of God, which is the church of the living God, the pillar and ground of the truth.
Galatians 2:9
And when James, Cephas, and John, who seemed to be pillars, perceived the grace that was given unto me, they gave to me and Barnabas the right hands of fellowship; that we should go unto the heathen, and they unto the circumcision.
Revelation 3:12
Him that overcometh will I make a pillar in the temple of my God, and he shall go no more out: and I will write upon him the name of my God, and the name of the city of my God, which is new Jerusalem, which cometh down out of heaven from my God: and I will write upon him my new name.
A pillar in dreams and visions symbolizes a person who is very reliable in a certain situation or in a church or in a work situation. It speaks of spiritual strength, firmness, and support. When you dream of a building falling apart because of weak pillars, it speaks of prominent people (leaders) not spiritually mature or in a natural sense, not mentally mature or qualified (weak and unable to support the group of people in the work situation). In such cases, the leaders cannot take up their responsibilities effectively and the organization or business or ministry suffers in the process.
Take note of the conditions of pillars in dreams (colors, structural damage, weak, strong, etc.). It tells you more about the spiritual or natural conditions of the leaders or people in a ministry, business or organization.
Pine tree
See "Tree (Pine)"
Pink
See "Colors in dreams and visions"
Pistol
See "Revolver"
Pitcher
Lamentations 4:2
The precious sons of Zion, comparable to fine gold, how are they esteemed as earthen pitchers, the work of the hands of the potter!
Judges 7:16-20
16 And he divided the three hundred men into three companies, and he put a trumpet in every man's hand, with empty pitchers, and lamps within the pitchers.
17 And he said unto them, Look on me, and do likewise: and, behold, when I come to the outside of the camp, it shall be that, as I do, so shall ye do.
18 When I blow with a trumpet, I and all that are with me, then blow ye the trumpets also on every side of all the camp, and say, The sword of the LORD, and of Gideon.
19 So Gideon, and the hundred men that were with him, came unto the outside of the camp in the beginning of the middle watch; and they had but newly set the watch: and they blew the trumpets, and brake the pitchers that were in their hands.
20 And the three companies blew the trumpets, and brake the pitchers, and held the lamps in their left hands, and the trumpets in their right hands to blow withal: and they cried, The sword of the LORD, and of Gideon.
2 Corinthians 3:2-11
2 Ye are our epistle written in our hearts, known and read of all men:
3 Forasmuch as ye are manifestly declared to be the epistle of Christ ministered by us, written not with ink, but with the Spirit of the living God; not in tables of stone, but in fleshy tables of the heart.
4 And such trust have we through Christ to God-ward:
5 Not that we are sufficient of ourselves to think any thing as of ourselves; but our sufficiency is of God;
6 Who also hath made us able ministers of the new testament; not of the letter, but of the spirit: for the letter killeth, but the spirit giveth life.
7 But if the ministration of death, written and engraven in stones, was glorious, so that the children of Israel could not stedfastly behold the face of Moses for the glory of his countenance; which glory was to be done away:
8 How shall not the ministration of the spirit be rather glorious?
9 For if the ministration of condemnation be glory, much more doth the ministration of righteousness exceed in glory.
10 For even that which was made glorious had no glory in this respect, by reason of the glory that excelleth.
11 For if that which is done away was glorious, much more that which remaineth is glorious.
A pitcher in dreams and visions symbolizes a vessel of excellence in the hands of God or a vessel of destruction in the hands of the enemy. It speaks of people allowing their physical bodies to be used for good or for evil by either God or evil spirits. More information regarding the pitcher (color, size, substance made of, substance filled with) will reveal more information about the specific person or congregation or church. Whatever is in the pitcher will also tell how the specific person is used by God or by evil spirits.
Plane
See "Vehicles (Aircraft)"
Platter
Luke 11:39
And the Lord said unto him, Now do ye Pharisees make clean the outside of the cup and the platter; but your inward part is full of ravening and wickedness.
Matthew 23:25-26
25 Woe unto you, scribes and Pharisees, hypocrites! for ye make clean the outside of the cup and of the platter, but within they are full of extortion and excess.
26 Thou blind Pharisee, cleanse first that which is within the cup and platter, that the outside of them may be clean also.
A platter in dreams and visions symbolizes hypocrisy and "externalism". It speaks of excessive regard for outward form in religion.
Plow
Jeremiah 4:3
For thus saith the LORD to the men of Judah and Jerusalem, Break up your fallow ground, and sow not among thorns.
Job 4:8
Even as I have seen, they that plow iniquity, and sow wickedness, reap the same.
Proverbs 20:4
The sluggard will not plow by reason of the cold; therefore shall he beg in harvest, and have nothing.
1 Corinthians 9:10
Or saith he it altogether for our sakes? For our sakes, no doubt, this is written: that he that ploweth should plow in hope; and that he that thresheth in hope should be partaker of his hope.
Hosea 10:13
Ye have plowed wickedness, ye have reaped iniquity; ye have eaten the fruit of lies: because thou didst trust in thy way, in the multitude of thy mighty men.
A plow in dreams and visions symbolizes the preparation of people's hearts for the gospel of Christ. It speaks of breaking open tough hearts (the hard ground) so that it can receive the word of God (the seed). It is about spiritual preparation to make ready for sowing.
In a negative sense, a plow symbolizes the breaking open of hearts in a bad way to be ready for bad seed (lies). This speaks of people who did not make a decision for Christ yet nor for evil but who are suddenly willing and prepared to go from "bad" to worse.
Poison
Psalm 140:3
They have sharpened their tongues like a serpent; adders' poison is under their lips. Selah.
Deuteronomy 32:33
Their wine is the poison of dragons, and the cruel venom of asps.
Job 20:16
He shall suck the poison of asps: the viper's tongue shall slay him.
Psalm 58:4
Their poison is like the poison of a serpent: they are like the deaf adder that stoppeth her ear.
Romans 3:13
Their throat is an open sepulchre; with their tongues they have used deceit; the poison of asps is under their lips.
James 3:8
But the tongue can no man tame; it is an unruly evil, full of deadly poison.
In dreams and visions, anything that we put in our mouths to eat is words. Poison is, therefore, a symbol of evil teachings. Whenever the Bible refers to the poison of people it speaks of their lies and deceit. Just as poison kills a person, so evil teachings also leads to spiritual death when a person accepts those evil teachings in his spiritual belly and digestive system.
When you dream of a person eating or drinking poison it speaks of that person killing himself spiritually because of evil teachings. Even Spirit-filled teachers in the body of Christ might have a little bit of poison among some very good teaching material or in their personal libraries. Watch out for this. I once went through the teaching material of a well known Spirit-filled teacher. Some of the materials were just awesome but a few things raised some concerns in my heart. I asked the Lord about those teachings and He confirmed in a dream that those doctrines were indeed poisonous. He showed me the poison among the good food that the person usually offers people.
In a positive sense, the word of God is also poisonous to evil spirits, specifically referring to the toxic thoughts that they instigate. When we dream we apply poison to little insects or birds it speaks of us applying the word of God to the negative thoughts by replacing it with the true and authentic word of God. The true word acts as a poison by killing toxic thoughts. See "Insects" for a better understanding of this symbol.
Whenever you dream that you are applying poison to vicious little animals like crocodiles and other symbolically evil animals (which represent evil activities and influences), the Holy Spirit is actually motivating you to apply the word of God in the specific situation or the specific evil attack on your life. We chase these evil spirits away by applying the word of God. However, this has nothing to do with the traditional spiritual warfare against evil. See "Snake" for a better understanding of this symbol and the strategy that you should utilize to fend off evil attacks. We only speak to evil spirits directly when we cast out demons or when we chase demons away from a person or in a specific situation.
See "Food" for a better understanding of this symbol.
Police (Prosecutors)
Policemen and other law enforcement occupations symbolize authority in the church. It symbolizes the need to adhere to the will of God and the principles that govern the kingdom of God. Policemen and other law enforcement occupations in dreams and visions are usually a call for repentance and obedience. It speaks of us doing the right thing. We should know the will of God and we should carry out the will of God.
In a negative sense, policemen and other law enforcement occupations in dreams and visions symbolize legalism in the church. Those are the people who are constantly applying Old Testament truths to the Church of Christ. These people constantly check out people and congregations. They scrutinize their teachings, their behavior and the way they live out their faith. They teach false things and they influence the church in a negative way. They actually cause the church to be disobedient.
They constantly attempt to get people or congregations to return back to their Hebrew roots and to Judaism. They are no different from the Pharisees. They bring back things like the Old Testament feasts, the Sabbath, the Old Testament Names of God, etc. Policeman and prosecutors symbolize people with the same attitude as the Pharisees.
Postbox
See "Letterbox"
Postmortem
A postmortem in dreams and visions symbolizes a situation where old spiritual or financial debts are re-investigated or analyzed. This happens quite a lot in financial institutions, politics as well as spiritual matters.
See "Coffin" and "Cemetery" and "Funeral"
Potter
Isaiah 64:8
But now, O LORD, thou art our father; we are the clay, and thou our potter; and we all are the work of thy hand.
Jeremiah 18:4-6
4 And the vessel that he made of clay was marred in the hand of the potter: so he made it again another vessel, as seemed good to the potter to make it.
5 Then the word of the LORD came to me, saying,
6 O house of Israel, cannot I do with you as this potter? saith the LORD. Behold, as the clay is in the potter's hand, so are ye in mine hand, O house of Israel.
Lamentations 4:2
The precious sons of Zion, comparable to fine gold, how are they esteemed as earthen pitchers, the work of the hands of the potter!
Revelation 2:27
And he shall rule them with a rod of iron; as the vessels of a potter shall they be broken to shivers: even as I received of my Father.
Isaiah 29:16
Surely your turning of things upside down shall be esteemed as the potter's clay: for shall the work say of him that made it, He made me not? or shall the thing framed say of him that framed it, He had no understanding?
A potter in dreams and visions symbolizes God with the focus on the works that He has done. It speaks of his creativity.
Pound
Luke 19:13-26
13 And he called his ten servants, and delivered them ten pounds, and said unto them, Occupy till I come.
14 But his citizens hated him, and sent a message after him, saying, We will not have this man to reign over us.
15 And it came to pass, that when he was returned, having received the kingdom, then he commanded these servants to be called unto him, to whom he had given the money, that he might know how much every man had gained by trading.
16 Then came the first, saying, Lord, thy pound hath gained ten pounds.
17 And he said unto him, Well, thou good servant: because thou hast been faithful in a very little, have thou authority over ten cities.
18 And the second came, saying, Lord, thy pound hath gained five pounds.
19 And he said likewise to him, Be thou also over five cities.
20 And another came, saying, Lord, behold, here is thy pound, which I have kept laid up in a napkin:
21 For I feared thee, because thou art an austere man: thou takest up that thou layedst not down, and reapest that thou didst not sow.
22 And he saith unto him, Out of thine own mouth will I judge thee, thou wicked servant. Thou knewest that I was an austere man, taking up that I laid not down, and reaping that I did not sow:
23 Wherefore then gavest not thou my money into the bank, that at my coming I might have required mine own with usury?
24 And he said unto them that stood by, Take from him the pound, and give it to him that hath ten pounds.
25 (And they said unto him, Lord, he hath ten pounds.)
26 For I say unto you, That unto every one which hath shall be given; and from him that hath not, even that he hath shall be taken away from him.
A pound (lb) in dreams and visions symbolizes responsibility and accountability. A "mina" or a pound in this context refers to weight. It is not about money. Those who possessed or controlled more weight had more responsibility and more accountability.
Praying mantis
Galatians 5:15
But if ye bite and devour one another, take heed that ye be not consumed one of another.
A praying mantis symbolizes a person with irritating thoughts or arguments or criticism toward or directed to other people. The true nature of a praying mantis is to kill and to devour members of its own species. This speaks of a person who feels nothing for other people.
See "Animals" and "creatures (Of the air)" for a better understanding of this symbol.
Pregnant woman
Galatians 4:19
My little children, of whom I travail in birth again until Christ be formed in you.
A pregnant woman speaks of a person preparing to give birth to a new ministry. It also speaks of a person's labor for a specific situation or for the spiritual well being of people, like Paul's labor for the Galatians in the Scripture above. It speaks about the "process" of bringing something new into existence (nine months of being pregnant and accommodating the growth and the development of the baby in the womb).
Preschool
A preschool symbolizes the teaching and equipping of brand new Christians.
Price
1 Corinthians 6:20
For ye are bought with a price: therefore glorify God in your body, and in your spirit, which are God's.
Proverbs 31:10
Who can find a virtuous woman? for her price is far above rubies.
Isaiah 55:1
Ho, every one that thirsteth, come ye to the waters, and he that hath no money; come ye, buy, and eat; yea, come, buy wine and milk without money and without price.
Matthew 13:46
Who, when he had found one pearl of great price, went and sold all that he had, and bought it.
Matthew 27:6,9
6 And the chief priests took the silver pieces, and said, It is not lawful for to put them into the treasury, because it is the price of blood.
9 Then was fulfilled that which was spoken by Jeremy the prophet, saying, And they took the thirty pieces of silver, the price of him that was valued, whom they of the children of Israel did value.
1 Peter 3:4
But let it be the hidden man of the heart, in that which is not corruptible, even the ornament of a meek and quiet spirit, which is in the sight of God of great price.
Price (like clothes and other items with price tags) in dreams and visions symbolizes value or worth. It speaks of the items in the dream or vision being valuable in a spiritual sense. It means that we need to regard such items valuable. Pay attention to the specific price on the different items in dreams and visions. It might reveal more information about the value of the specific item.
Prison
1 Peter 3:19
By which also he went and preached unto the spirits in prison.
Psalm 142:7
Bring my soul out of prison, that I may praise thy name: the righteous shall compass me about; for thou shalt deal bountifully with me.
Isaiah 61:1
The Spirit of the Lord GOD is upon me; because the LORD hath anointed me to preach good tidings unto the meek; he hath sent me to bind up the brokenhearted, to proclaim liberty to the captives, and the opening of the prison to them that are bound.
Revelation 20:7
And when the thousand years are expired, Satan shall be loosed out of his prison.
Psalm 102:20
To hear the groaning of the prisoner; to loose those that are appointed to death.
A prison in dreams and visions symbolizes bondage or slavery. It speaks of people who lost their spiritual freedom by becoming a slave to sin or to people who control them or to demonic spirits who control them. When we live in sin and when we are controlled by sin we are in bondage and then we are slaves. It is symbolized by being in prison but it can also be symbolized by bars and chains and ropes.
A prison is sometimes represented by just the prison "bars" or sometimes "chains" bolted onto the floor but it has the same meaning.
See "Prisoner"
Pull (Invisible person)
When you dream a person (sometimes invisible) pulls you ahead whilst you are running (in sports like running, athletics and rugby, etc.) it speaks of God assisting you and helping you to achieve better results. He assists us so that we can perform better in spiritual things. See "Push"
Purple
See "Colors in dreams and visions"
Purse
A purse in dreams and visions symbolizes the spiritual treasures of the kingdom of God pertaining to the maintaining of our spiritual well-being. The purse usually contains only the spiritual treasures that we accepted and received. There are sometimes spiritual treasures that we do not accept and receive because of disobedience and a lack of faith.
Purses in dreams and visions usually contain a wallet with money, which is the word of God. See "Money" for a better understanding of this symbol. It also contains those things and those little gadgets that we value most to look after ourselves. Things like lipstick, a nail set, tissues, etc.
See "Lipstick" and "Lips" and "Eye shadow" for a better understanding of this symbol.
Puss (Boils)
See "Boils"
Python
See "Snake (Python)"
This was an excerpt of only about 50% of symbols that is available in the paid version of the Dreams and visions symbols dictionary.
By purchasing the Dreams Dictionary, you gain the following:
You will have access to about twice as many dreams and visions symbols as online visitors (almost 1000 pages of symbols).

You have access to the Dreams and Visions Interpretation Course Manual which is exclusively available to dictionary owners as a free add-on. This manual puts the theoretical knowledge (dictionary) into practice (manual).

You have access to real-life dreams and visions which explain symbols more comprehensively.

If you registered for the free Dreams Interpretation Course, you have all the study material that you need. To effectively complete the Dreams Interpretation Course, you really do need the paid version of the dictionary and you do need the Dreams Interpretation Course Manual. Without these resources, you will be limited in your efforts to master the Biblical language of symbols.

By purchasing the dictionary, you support my ministry, which won't be possible if you don't. The selling of books is my only source of income and any writer will confirm that it is not easy to make a living solely from the sales of books.

By rating my books, you enable me to improve the quality and the standard of the books and, by doing so, you help other people to make their purchasing experience a lot easier.
You can purchase the Dreams Symbols Dictionary here:
Please take note, in order to learn the Biblical language of symbols, you need to read this information: How to interpret dreams and visions symbols correctly
Click on the following letters of the alphabet for the relevant symbol that you are looking for:
Directions, movement and positions in dreams and visions
Substitution in dreams and visions
All local resources on this website are free of charge. Please help us by sharing it with your friends through the social networks. Social network sharing buttons available at the bottom of all pages