The "Dreams Dictionary" is now available to all our readers at a special discount price, and what's more; it is yours for life!
Other than the Free online Dreams Dictionary, the book will be updated regularly and will be a lot more comprehensive. Please check out all the benefits you receive on purchase of the Dictionary:
The Dreams and Visions Dictionary (Book) will be updated as new symbols and the meanings of new symbols are identified. For this reason the book's edition number or revision date will be important to take note of. Dictionary owners will always be able to download the latest edition of the Dreams Dictionary by means of the "download link" that they received when they purchased the dictionary. Keep your download link saved on your PC or on your email server. Links can be regenerated and emailed to you by requesting for it by email.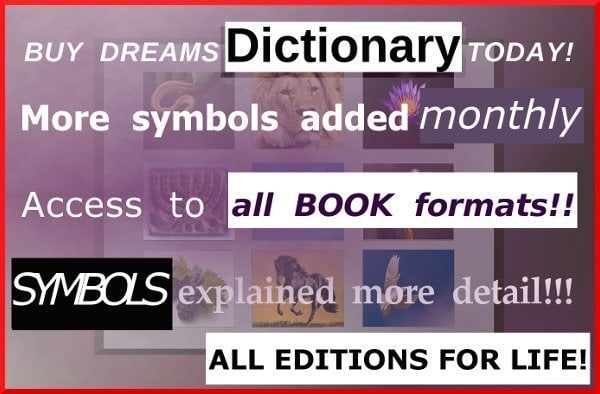 Please take note, in order to learn the Biblical language of symbols, you need to read this information: How to interpret dreams and visions symbols correctly
Click on the following letters of the alphabet for the relevant symbol that you are looking for:
A B C D E F G H I J K L M N O P Q R S T U V W Y
Directions, movement and positions in dreams and visions
Substitution in dreams and visions
P – Symbols (The meanings or the interpretation of most symbols in this dictionary are derived from the Bible)
Packet
When we receive a packet from a person in dreams it speaks of more than a message (See letter). A packet is a gift (good or bad). We receive good gifts from God and good people and bad gifts from the devil and bad people.
Palm tree branches
Palm tree branches symbolize victory and rejoicing. People who are glad publicly show their gladness and joy by waving palm tree branches whilst singing and shouting. This happened in Biblical times already.
Pajamas
A person wearing pajamas in dreams and visions speaks of such a person spiritually not ready for ministry. It speaks of that person spiritually not prepared for the tasks of ministry. The pajamas suggests that this person has been spiritually inactive for some reason and therefore not ready for ministry. See "Sleep", "Bed" and "Bedroom" for more information about this symbol.
Parachute
A parachute symbolizes a person who leaves his current work or ministry or occupation descending on a new destination. It also speaks of a person getting out of a spiritual ministry.
In another sense a parachute speaks of a person who is fearless and with courage to approach something new.
In a negative sense a parachute speaks of a person who is quitting (giving up or bailing out) and escaping the previous situation.
The colors of parachutes in dreams and visions indicates the reasons or the emotions involved when people are bailing out of situations or leaving work situations.
Parents
Parents in dreams symbolize God (Father God), Jesus Christ (our eldest Brother but also our everlasting Father) and the Holy Spirit (Mother).
Party
A party in dreams symbolizes a celebration in the Lord Jesus Christ.
Passenger
See "Vehicle (Passenger)"
Path
A path or a road in dreams symbolizes life's journey. In most cases the road or the path speaks of a specific situation or a specific aspect in terms of the different journeys that we take in life. However, sometimes it does speak of the complete journey of life. It all depends on what you prayed about or what the subject is of the specific dream.
Pawpaw (Fruit of the Spirit)
A pawpaw symbolizes meekness in a person. It is one of the fruits of the Spirit.
Peace
A positive feeling of peace in dreams and visions symbolizes an assurance from God that He is there, He has our backs covered and that all is well in terms of the specific aspect or situation in the dream or in general.
Peacock
A peacock is a symbol of a person who likes to show off. It symbolizes a sort of pride or arrogance leading to boasting and putting peoples attention on whatever such a person achieved in life and in specific situations.
Also see "Animals" and "Creatures (Of the land)" for a better understanding of this symbol.
Pear
A pear symbolizes a person with a meek spirit. It is one of the fruits of the Spirit.
Pen
A writing pen is used to write things down. We actually record things so that we do not forget it. A pen in a dream therefore symbolizes us pondering on past events and past incidents. The color of the pen will reveal more detail on the nature of the things we are pondering on.
Pen (Catching fire while someone writes with it)
A pen catching fire while writing with it speaks of the anointing of God on a person and also the request from God to write a spiritual book or to record things under the anointing of the Holy Spirit.
Pen (Black)
A black pen speaks of a person who remembers or ponders upon negative reports or testimonies resulting in fear and unbelief and depression.
Pen (Golden)
A golden pen speaks of a person who gives testimonies of things he experienced which inspire faith.
Pen (Red)
A red pen speaks of a person who tends to remember past conflicts, problems, bad experiences and disasters.
Pen (White)
A white pen speaks of a person who gives testimonies which brings victory and righteousness.
Pencil
A pencil speaks of a person who only remembers good testimonies on a short-term basis. Such people are like the Israelites in the desert who quickly forgot what God has done for them.
In a positive sense it speaks of a person who quickly discards and removes negative occurrences or reports from his mind. Such a person does not bring up bad things of the past.
There are so many people who do not know about the FREE online Dreams Symbols Dictionary or the FREE Dreams Symbols Interpretation Course! This is SAD. It has the potential to enrich their lives so much and bring them closer to God. Please make it a habit to share all our content by means of the Social Sharing Buttons at the bottom of all our pages. We are eternally grateful for that.
Penguin
A penguin symbolizes a person who relies on personal martyrdom (denying themselves a lot of things) to achieve justification in stead of relying on the blood of Christ through faith and through grace.
Also see "Animals" and "Creatures (Of the sea)" for a better understanding of this symbol.
Perfume
Perfume symbolizes a person who is pleasing God with his life. This indicates that this person's life is a sweet and wonderful fragrance onto of God.
Person
See "Man" and "Woman".
Petrol
See "Vehicle (Fuel)"
Phone (Ringing)
When a phone is ringing in dreams and visions it speaks of God wanting to talk to you. It is a call for prayer.
Photo
A meaning of a photo is very similar to a the meaning of a photo album but it reflects a person's identity or true reflection in terms of a specific aspect and not in terms of his whole life.
See "Photo album" and "Old (Movie)".
Photo album
A photo album symbolizes the true identity of a person. The fact that it is not only one photo but a whole album of photos, especially when you dream of baby photos of a grown person, it speaks of exposing or reflecting the true identity of such a person. It tells you from where this person comes from and who and what he is. A woman I know once had a dream of a specific person. This person was a stranger to her. In the dream she was concerned about the person's character. She then dreamed that this person "currently" sleeps in a tent and that there are two baby photo albums, of this person, on the floor of the tent underneath his clothes and private belongings. Underneath private belongings suggests that he covers or hides his true identity. In the dream she knew that she needed to check out these photo albums before she gets involved with this person. The significance of two albums symbolizes the fact that she must do a double check on this person. This was a warning not to be hasty getting involved with this person but to be cautious and to check him out thoroughly. This probably suggested that there was something wrong with this person.
See "Old (Movie)".
Pick (Garden)
See "Garden (Pick)"
Pig
A pig symbolizes a person (Christian) who is backsliding. When a person who was once cleansed from unrighteousness, sin and other fleshly desires, returns to his previous ways, he is like a pig who returns to wallowing in the mire. Domestic pigs, like domestic dogs, symbolize a Christian that is backsliding. It does not speak of unsaved people.
Also see "Animals" for a better understanding of this symbol.
Piles
See "Hemorrhoids".
Pillar
A pillar in dreams and visions symbolizes a person who is very reliable in a certain situation or in a church or in a work situation. When you dream of a building falling apart because of weak pillars it speaks of prominent people (leaders) not spiritually mature or in a natural sense not mentally mature or qualified. In such cases the leaders cannot take up their responsibilities effectively and the organization or business or ministry suffers in the process.
Take not of the conditions of pillars in dreams. It tells you more about the spiritual or natural conditions of the leaders or people in a ministry, business or organization.
Pineapple (Fruit of the Spirit)
A pineapple symbolizes a humble person. The reason for this is the fact that the pineapple plant is very small yet it produces this huge fruit. A pineapple is also very sweet and tasty although it is quite dull in appearance.
Pink
See "Colors in dreams and visions".
Pistol
See "Revolver".
Plane
See "Vehicles (Aircraft)".
Plant
A plant in dreams and visions symbolizes growth in the life of a person or a congregation or even a business. The condition of the plant as well as the type of plant will reveal more about the condition of the specific person, congregation or organization.
Poison
Poison is a symbol for evil teachings. Just as poison kills a person, so evil teachings also leads to spiritual death when a person accepts those evil teachings in his spiritual belly and digestive system. When you dream of a person eating or drinking poison it speaks of that person killing himself spiritually because of evil teachings. Even Spirit filled teachers in the body of Christ might have a little bit of poison among some very good teaching material or in their personal libraries. Watch out for this. I once went through the teaching material of a well known Spirit filled teacher. Some of the materials were just awesome but a few things raised some concerns in my heart. I asked the Lord about those teachings and He confirmed in a dream that those doctrines were indeed poisonous. He showed me the poison among the very good food that the person usually offers people.
See "Food" for a better understanding of this symbol.
In a positive sense, the word of God is also poisonous to evil spirits, specifically referring to the toxic thoughts that they instigate. When we dream we apply poison to little insects or birds it speaks of us applying the word of God to the negative thoughts by replacing it with the true and authentic word of God. The true word acts as a poison killing the toxic thoughts. See "Insects".
Whenever you dream that you are applying poison to vicious little animals like crocodiles and other symbolically evil animals (which represent evil activities and influences), the Holy Spirit is actually motivating you to apply the word of God in the specific situation or the specific evil attack on your life. We chase these evil spirits away by applying the word of God. However, this has nothing to do with traditional spiritual warfare against evil. See "Snake" for a better understanding of this symbol and the strategy that you should utilize in order to fend off evil attacks. We only speak to evil spirits directly in when we cast out demons or when we chase demons away from a person or in a specific situation.
Polar bear or snow bear
A polar bear or a snow bear symbolizes a person with a hesitating spirit. It speaks of a person who has not moved from hope to faith. They usually stay with hope. They do not go to the next level or the next step. It speaks of a person who is prepared to or satisfied with waiting for something to happen later. Snow speaks of a period of waiting. A polar bear however never leaves the snow or the ice. See "Snow". They never allow the hope which is totally focused on the future to become faith which is an act of true faith.
Also see "Animals" and "Creatures (Of the land)" for a better understanding of this symbol.
Police (Prosecutors)
Policemen and other law enforcement occupations symbolize legalism in the church. Those are the people who are constantly applying Old Testament truths to the Church of Christ. These people constantly check out people and congregations. They scrutinize their teachings, their behavior and the way they live out their faith. They constantly attempt to get people or congregations to return back to their Hebrew roots and to Judaism. They are no different from the pharisees. They bring back things like the Old Testament feasts, the Sabbath, the Old Testament Names of God, etc. Policeman and prosecutors symbolize people with the same attitude as the pharisees.
Postbox
See "Letterbox".
Postmortem
A postmortem symbolizes a situation where old spiritual or financial debts are re-investigated or analyzed. This happens quite a lot in financial institutions, politics as well as spiritual matters.
See "Coffin" and "Cemetery" and "Funeral".
Powder (Fine white powder)
Fine white powder symbolizes a person with a very sensitive spirit.
Powder (Fine white wheat falling like snow)
Fine white wheat falling like snow in dreams symbolizes the word of God (wheat) falling from heaven as a personal message from God in the form of dreams while people are sleeping. Usually this happens whilst somebody is sleeping in a dream.
Praying mantis
A praying mantis symbolizes a person with irritating thoughts or arguments or criticism towards or directed to other people. The true nature of a praying mantis is to kill and to devour members of its own species. This speaks of a person who feels nothing for other people.
Also see "Animals" and "creatures (Of the air)" for a better understanding of this symbol.
Pregnant woman
A pregnant woman speaks of a person preparing to give birth to a new ministry. It also speaks of a person's labor for a specific situation or for the spiritual well being of people. It speaks about the "process" of bringing something new into existence (9 months of being pregnant and 9 months of the growth and development of the baby).
Preschool
A preschool symbolizes the teaching and equipping of brand new Christians.
Pull (Invisible person)
When you dream a person (sometimes invisible) pulls you ahead whilst you are running (Sport like running, athletics and rugby, etc.) it speaks of God assisting you and helping you to achieve better results. He assists us to perform better in spiritual things. See "Push".
Purple
See "Colors in dreams and visions".
Purse
A purse symbolizes the spiritual treasures of the kingdom of God pertaining to the maintaining of our spiritual well-being. It usually contains a wallet with money, which is the word of God. See "Money". It also contains those things and those little gadgets that we value most in order to look after ourselves. Things like lipstick, a nail set, tissues, etc. See "Lipstick", "Lips", "Eye shadow", etc.
Push (Invisible person)
When you dream a person (sometimes invisible) pushes you from behind whilst you are running (Sport like running, athletics and rugby, etc.) it speaks of God assisting you and helping you to achieve better results. He assists us to perform better in spiritual things.
Puss (Boils)
See "Boils"
Python
See "Snake (Python)"
Please take note, in order to learn the Biblical language of symbols, you need to read this information: How to interpret dreams and visions symbols correctly
Click on the following letters of the alphabet for the relevant symbol that you are looking for:
A B C D E F G H I J K L M N O P Q R S T U V W Y
Directions, movement and positions in dreams and visions
Substitution in dreams and visions
All local resources on this website are free of charge. Please help us by sharing it with your friends through the social networks. Social network sharing buttons available at the bottom of all pages