The "Dreams Dictionary" is now available to all our readers at a special discount price, and what's more; it is yours for life!
Other than the Free online Dreams Dictionary, the book will be updated regularly and will be a lot more comprehensive. Please check out all the benefits you receive on purchase of the Dictionary:
The Dreams and Visions Dictionary (Book) will be updated as new symbols and the meanings of new symbols are identified. For this reason the book's edition number or revision date will be important to take note of. Dictionary owners will always be able to download the latest edition of the Dreams Dictionary by means of the "download link" that they received when they purchased the dictionary. Keep your download link saved on your PC or on your email server. Links can be regenerated and emailed to you by requesting for it by email.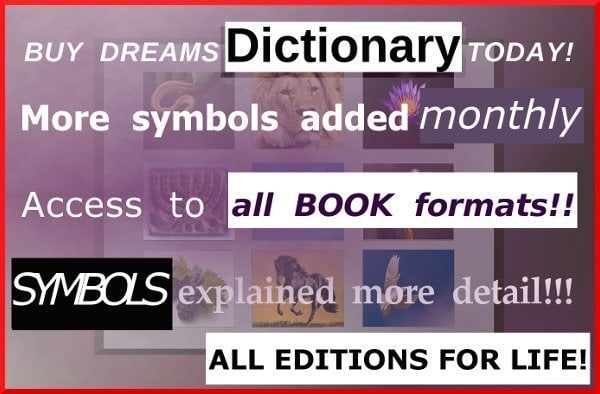 Please take note, in order to learn the Biblical language of symbols, you need to read this information: How to interpret dreams and visions symbols correctly
Click on the following letters of the alphabet for the relevant symbol that you are looking for:
A B C D E F G H I J K L M N O P Q R S T U V W Y
Directions, movement and positions in dreams and visions
Substitution in dreams and visions
Y – Symbols (The meanings or the interpretation of most symbols in this dictionary are derived from the Bible)
Yellow
See "Colors in dreams and visions".
Yellow sea monster
A yellow sea monster symbolizes a large or strong deceiving rebellious spirit causing jealousy and hate.
Also see "Animals" and "Creatures (Of the sea)" for a better understanding of this symbol.
There are so many people who do not know about the FREE online
Dreams Symbols Dictionary
or the FREE
Dreams Symbols Interpretation Course
! This is SAD. It has the potential to enrich their lives so much and bring them closer to God. Please make it a habit to share all our content by means of the Social Sharing Buttons at the bottom of all our pages. We are eternally grateful for that.
All local resources on this website are free of charge. Please help us by sharing it with your friends through the social networks. Social network sharing buttons available at the bottom of all pages