Dear guest, the purpose of this website is to promote good reading material, written by good Christian authors. Feel free to read my reviews on books and also the freshly updated posts relating to books, writing and other Christian topics. We also have a functional affiliate-program which gives you, as a registered user, the advantage of earning a steady passive income. Read more about that here. 
Please visit our Affiliates Training page and the Affiliates Control Panel.
Also visit our Resources page for free resources and very interesting reads!
ASR Martins is one of the founding members of the "SA House churches" initiative. He stays with his wife Marinda and their boys, Ewaldt and Rheeder, in Klerksdorp, South Africa. They also have a daughter Alisia. They see themselves as spiritual facilitators by providing support, resources and encouragement to everybody who wants to be pioneers in the hand of God. He is also the author of a few books which can be purchased on this website or at the online bookstore of your choice.
Latest additions to ASR Martins Publishing!
Understanding the prophetic times we live in (A report of imminent events)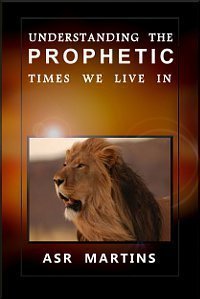 During the morning hours of Tuesday, June 2, 2015, the Lord Jesus Christ instructed me to write this report. He called it a "report" because He wanted me to write it as a "report of imminent events" to those who wish to understand the prophetic times we live in. The aim of this report is to bring clarity and to counter confusion in the lives of many Christians regarding the end-times, especially regarding the prophetic time we live in at this moment. The Lord's aim with this report is clear: Clarity will equip and enable God's children to follow His vision for and in this time period we are living in now. It will enable them to report for duty. It will enable them to become mighty instruments in God's hand. End-time ministry does not only mean that God is at work. It also means that we have some part to play in order to enable God to carry out His plans. This report will enable God's children to stand up and be counted".
Peace of mind agreement!
eBooks written by ASR Martins are the cheapest on his own website. You will not find it cheaper at any other online bookstore. He also offers a refund, for your peace of mind, in case you are not satisfied with the quality of the book that you purchased. This refund is valid for 7 days only after the date of purchase. Your eBook will be available for downloads for an unlimited period of time in the format on your receipt.
No need to register: Choose your desired eBook format, log in with your name and billing address and you will be diverted to Paypal. Numerous methods of payment to choose from are available. Click on the links below for more information:
Please visit our NEWS and our RESOURCES pages for lots of FREE books and other reading material based on the true and authentic word of God. These resources are excellent study material and free for everyone. For more information, click on the link below:
BOEKE  EN  STUDIEMIDDELS
Die waarheid omtrent bloedlynvloeke
Hierdie boek is geskryf om hierdie vals leerstelling uit die woord van God te weerlê. Kinders van God is werklik nie op hoogte met die woord van God met betrekking tot hierdie onderwerp nie. Hoewel die Bybel ast'ware hierdie leerstelling in soveel woorde baie duidelik bevestig as 'n vals leerstelling, veroorsaak onkunde steeds dat miljoene kinders van God onder hierdie juk gebuk gaan. Klik op die skakel hier onder vir meer inligting:
Nog meer boeke en spesiale studie materiaal aangaande kerkleierskap en bediening in die huiskerk gemeente is nou beskikbaar op die "Hulpmiddels" bladsy. Vir meer inligting, klik op die skakel hier onder:

All local resources on this website are free of charge. Please help us by sharing it with your friends through the social networks. Social network sharing buttons available at the bottom of all pages
Thanks
ASR  Martins