The "Dreams Dictionary" is now available to all our readers at a special discount price, and what's more; it is yours for life!
Other than the Free online Dreams Dictionary, the book will be updated regularly and will be a lot more comprehensive. Please check out all the benefits you receive on purchase of the Dictionary:
The Dreams and Visions Dictionary (Book) will be updated as new symbols and the meanings of new symbols are identified. For this reason the book's edition number or revision date will be important to take note of. Dictionary owners will always be able to download the latest edition of the Dreams Dictionary by means of the "download link" that they received when they purchased the dictionary. Keep your download link saved on your PC or on your email server. Links can be regenerated and emailed to you by requesting for it by email.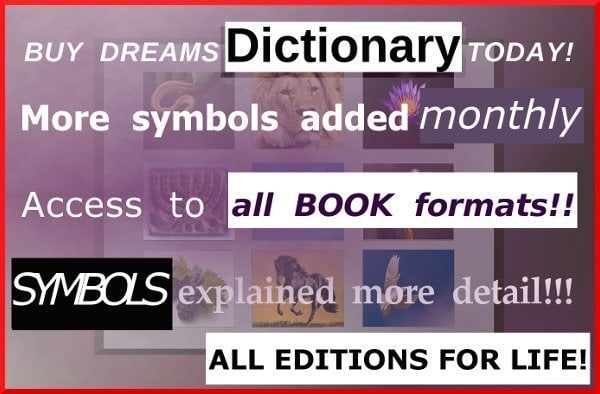 Please take note, in order to learn the Biblical language of symbols, you need to read this information: How to interpret dreams and visions symbols correctly
Click on the following letters of the alphabet for the relevant symbol that you are looking for:
A B C D E F G H I J K L M N O P Q R S T U V W Y
Directions, movement and positions in dreams and visions
Substitution in dreams and visions
D – Symbols (The meanings or the interpretation of most symbols in this dictionary are derived from the Bible)
Dagger
Similar to a sword or a knife, a dagger speaks of the "sword of the Spirit" (Word of God). The color of the dagger will reveal more information about the meaning of the dream. In dreams and in visions this speaks of the word (Logos) of God being used as a sword Rhema). This means using the Rhema word of God to change negative circumstances in our lives.
See "Sword" for a better understanding of this symbol.
Dam
A dam speaks of vast amounts of financial resources or spiritual resources kept in reserve for either an individual, a group of people like a town or city or any other community or group of people or for people living in a specific area. These resources are available when needed. The color of the water and the condition of the water will provide additional information and detail regarding these resources.
Danger
Danger in a dream speaks of a spiritual attack on a person. The danger lies in the fact that evil spirits can cause a person to loose his or her salvation, the person dying without being saved at all or the person loosing spiritual or financial blessings.
See this interesting example of a dream regarding a dangerous situation in that person's life: A lady who was totally trapped in seriously bad occultic activities once had a dream of a very ugly and devilish monster lurking and hiding in the dark in her garden. In the dream she was terrified. She knew she was in danger. At one stage she was peeping through her bedroom window when she saw this evil creature chewing a screaming woman in its huge mouth. She could hear the woman's bones crack while being chewed to death. She heard the last faint little scream from this woman just before this creature finally swallowed her. At exactly this point she supernaturally knew that she was that woman. She was terrified during and after the dream.
Now many people would say that this dream came from Satan. It however turned out that this dream was from God. It was his final warning to this woman that if she did not repent immediately from the evil and devilish activities she was involved in, the demon in the dream was going to cause her to be lost and condemned forever. It was the last warning and fortunately this woman did repent soon after this dream.
See "Snake" for a better understanding of the way that evil spirits attack us and how we should resist them effectively.
Dark or darkness
Darkness, like the night, symbolizes unbelief or sin or evil or separation from God. Dark colors in dreams and visions symbolize evil or demonic activities. It symbolizes unbelief or sin or separation from God when it refers to people. When you dream of a dusky place, a place full of shadows or a darkish color it all symbolizes unbelief, separation from God or sin or evil. It also speaks of satanic influences in a person's life or regarding certain circumstances or situations in his life.
Daughter
A daughter in dreams and visions speaks of spiritual growth or expansion and spiritual fruitfulness. This means that more aspects of ministries are added to the existing ministry. It also speaks of growth in terms of spiritual maturity.
If you pray for a couple or a woman to conceive, a baby girl could mean that they or she will literally bring a little girl into this world.
Death
Death speaks of the end of a season or relationship or a ministry. When you dream someone dies you need to check what that person represents. It can represent another person or the person you saw in your dreams or even a specific thing like a ministry. If it is your previous pastor or a pastor from another era in your spiritual journey it means you are to break ties with your old pastor completely. If it is a man or a woman you know it could be that you are involved in a wrong relationship and God wants you to break all ties with the specific person.
Deer
A deer speaks of a person who longs for the revelation of God (Psalm 42:1 – As the deer pants for streams of water). Also Proverbs 5:19 speaks about the loving nature of the deer. David speaks of God making his feet like the feet of a deer which speaks of a person walking steadfast where he is suppose to walk. In Songs we read about the woman advising her beloved to flee from sexual immorality like the deer. In this sense it speaks of sexual morality.
Also see "Animals" for a better understanding of this symbol.
Deep Sleep
A deep sleep speaks of spiritual inactivity, indifference, laziness or spiritually insensibility. In a positive sense it means that a person is taking a well deserved rest. In a negative sense it speaks of indifference, laziness and insensibility.
Destination
Reaching your destination in a dream speaks of the fulfillment of a spiritual task or ministry.
Diamonds (Cut)
A cut diamond symbolizes a person with matured wisdom. This wisdom only comes through divine revelations. Such a person knows the will of God as well as his ways and his kingdom principles.
Diamond (Uncut)
An uncut diamond speaks of a person with uncultivated wisdom. Such a person has the potential wisdom but it needs to mature and develop.
Dinghy
See "Boat (Dinghy)"
Dining room
A kitchen in dreams and visions is the place where spiritual food is prepared. See "Kitchen" and see "Food". A dining room is a place where teachings are conducted. It is therefore a place where people are being fed with spiritual food. The dining room represents a "place" or a "method" or a "structure". A kitchen represents a "study room", or a "workshop" or a "study group" or a person who is gathering information, writing study material or preparing a teaching or something similar.
Dinosaur
A dinosaur, monster or dragon in a dream or a vision symbolizes a person who thinks that the devil is still powerful. Like the dinosaurs, who used to be very powerful animals but now extinct, so is Satan and other evil spirits who used to be powerful before the crucifixion of Christ. Satan obtained his power through sin (of man) but he lost it after sin and the penalty of sin were taken away by the blood of Christ. After Jesus Christ conquered him on the cross, he was stripped of all power. Some people are however still under the impression that Satan is powerful and that he and his demons can cause them all sorts of harm. People who believe this lie are usually involved in a type of "spiritual warfare", which is not Biblical, against evil, not knowing that Christ Jesus already triumphed over all evil powers. This kind of "spiritual warfare" is actually dangerous and it gives evil powers a foothold in people's lives. See "Snake" for a better understanding of the way evil spirits attack us and the right way that we should resist them.
A dinosaur or a dinosaur head (intellectual reasoning) in the top left area of the visionary field (See "Positions in dreams and visions") also speaks of analytical and intellectual reasoning making too much of the problems and challenges in a specific situation. This indicates that the situation is really not that bad or that serious.
Also see "Animals" for a better understanding of this symbol.
There are so many people who do not know about the FREE online
Dreams Symbols Dictionary
or the FREE
Dreams Symbols Interpretation Course
! This is SAD. It has the potential to enrich their lives so much and bring them closer to God. Please make it a habit to share all our content by means of the Social Sharing Buttons at the bottom of all our pages. We are eternally grateful for that.
Dirt (As in dirty)
Dirt, like mud, speaks of people who are involved with sin or unholy and unrighteous things and people.
Doctor (Sisters and nurses)
Doctors in dreams and visions symbolize the Lord Jesus Christ who is our heavenly healer or heavenly doctor. Doctors however also symbolize Christ's delegates and ambassadors here on earth who have been anointed to heal people in the Name of Christ. Healing includes physical healing but also spiritual and mental healing. We also have spiritual sisters and nurses who assist those ministers.
Take note that the emphasis on sisters and nurses are to comfort and to assist. This is the same work that the Holy Spirit does in our lives. For this reason sisters and nurses also symbolize the role of the Holy Spirit in our lives when it comes to this aspect of healing.
Dog
A dog, like a pig, symbolizes uncleanness or sexual sins or a backsliding spirit (returns to sin like a dog to it's own vomit) after it has been delivered. Take note that a domestic dog, like a domestic pig, symbolizes a Christian that is backsliding. It does not speak of an unsaved person. Symbolically people return to things that they did before they were saved. These things usually fall in one of the following categories: Self-righteousness, immorality, laziness, blasphemous, violent aggressiveness, etc.
Also see "Animals" for a better understanding of this symbol.
Dog (Wild or savage)
A wild dog symbolizes a person with a savage and destructive attitude towards precious spiritual truths and gifts. It also symbolizes a person blaspheming and unappreciative of Jesus Christ and the truth of the gospel.
In another sense a wild dog speaks of a person who has lost his salvation.
Also see "Animals" for a better understanding of this symbol.
Dog (Brown)
A brown dog symbolizes a person returning to uncleanness and/or sexual sin. It also symbolizes immorality and laziness.
Also see "Animals" for a better understanding of this symbol.
Dog (Red)
A dog with a reddish color symbolizes a person who causes strife and violent conflict. They like to interfere with other people's personal affairs.
Also see "Animals" for a better understanding of this symbol.
Dog (White)
A white dog symbolizes a person who trusts in his own ability and own good works. They return to own works and are usually self-righteous. Remember that dogs symbolize a Christians that are backsliding. It does not speak of unsaved people.
Also see "Animals" for a better understanding of this symbol.
Dolphin
A dolphin speaks of a person who is helpful and supportive. Dolphins also speak of people that are in unity.
Also see "Animals" and "Creatures (Of the sea)" for a better understanding of this symbol.
Door
A door symbolizes a new opportunity to preach the gospel of Jesus Christ or to minister the word of God.
In a natural sense it speaks of a new business opportunity or a new way to operate or a new way to function.
Door (Screen-door)
A screen door speaks of a barrier (closed door) keeping irritating thoughts at bay. See "Insects" for a better understanding of this symbol.
See "Door".
Door (White and opening)
A white door opening speaks of victory and righteousness about to materialize. God is providing an open door.
See "Door".
Doors (Engraved flowers in temple doors)
Through prayer and worship we enter into the deep Holy presence, ways and things of God.
See "Door".
Dove
Doves have a "built in" navigation system. They instinctively know where home is because they do not loose direction. Similarly a dove in a dream or visions symbolizes the leading and the guidance of the Holy Spirit. A dove speaks of a person who has the mind of Christ. Such a person's thoughts and mind are being guided by the Spirit of God.
Also see "Animals" and "Creatures (Of the air)" for a better understanding of this symbol.
Dove (Dark barrier)
When Hennie van Niekerk once ministered unto a certain person he saw a white dove with a dark barrier in front of the dove. Hennie immediately knew that this person did not believe the teachings of the Holy Spirit. When confronted this person he admitted that he was very skeptical about the teachings of the gifts and the workings of the Holy Spirit. After this incident this person repented and he became a lot more open to the Holy Spirit.
Also see "Animals" and "Creatures (Of the air)" for a better understanding of this symbol.
Dove (Dark)
A dove of a dark color symbolizes a person with unbelief towards the leading of the Holy Spirit.
Also see "Animals" and "Creatures (Of the air)" for a better understanding of this symbol.
Dove (Green)
A green dove symbolizes a person who allows his intellectual way of life to overpower the leading of the Holy spirit. Such a person is actually led by his own thoughts and own insight.
Also see "Animals" and "Creatures (Of the air)" for a better understanding of this symbol.
Dove (Pale)
A pale dove symbolizes a person who believes that the Holy Spirit does not lead him any more. They usually feel that the Holy Spirit has abandoned them for some reason.
Also see "Animals" and "Creatures (Of the air)" for a better understanding of this symbol.
Drafts-man's desk
A drafts-men's desk speak of thorough planning and administration. Usually whenever a major evangelical outreach or something similar is planned someone in charge might dream about a drafts-men's desk.
Dragon
See "Dinosaur"
Driveway
A driveway symbolizes a very short journey. Sometimes an accident occurs at the end of the driveway before leaving the premises. This speaks of a spiritual journey or outreach that did not really materialize ending in conflict and damage (spiritual damage to a ministry).
Driving recklessly
See "Vehicles (Reckless driving)"
Drowning
A person who dreams that he is drowning (usually in a river) speaks of a person who is overwhelmed by the spiritual deliverance process of God. A river in flood speaks of a strong flow of the Holy Spirit which removes spiritual blockage like a natural river in flood removes all sorts of blockages preventing it from flowing freely. To some people the process of spiritual deliverance can be very challenging. In some cases such a person decides to commit suicide by drowning himself which speaks of the person deciding to give up. In such cases the person is not allowing the process of deliverance to take its course.
On the contrary, and in another sense, people dream that they can spend a lot of time underneath water without drowning. Their experience is that they do not need to breath under water. This usually happens in swimming pools and it speaks of a person who is enjoying the gifts of the Spirit and who is at ease with the workings of the Holy Spirit. See "Swimming pool" for a better understanding of this symbol.
See "Breathing (Under water)"
Drunkard
A person who dreams that he or she is under the influence of alcohol speaks of that person being under strong influence of other people. The degree of intoxication speaks of the degree of influence and also the degree of sober judgment that the person lost because of that negative influence. It most often speaks of a particular influence in a particular situation. Other occurrences in the dream will reveal more information about the circumstances of this negative influences. If you dream you throw a half full bottle of alcohol in a rubbish bin it is probably a request from God to get out of the situation. This will probably mean refraining from fellowshipping with the particular person or not allowing the specific person to influence you anymore.
In a positive sense intoxication speaks of a person who is under the influence of the Holy Spirit. We should actually be filled with the Holy Spirit.
Duck
Ducks symbolize people who are discontent, displeased or ungrateful. Such a person (symbolized by a duck) cannot be satisfied. Just as a duck, who loves water and who continuously remains in water never gets wet even when it is totally immersed in water, so these people are never able to receive spiritual blessings (See "Water").
Also see "Animals" and "Creatures (Of the land)" for a better understanding of this symbol.
Dusty
Something covered with dust symbolizes something that is not in use.
Please take note, in order to learn the Biblical language of symbols, you need to read this information: How to interpret dreams and visions symbols correctly
Click on the following letters of the alphabet for the relevant symbol that you are looking for:
A B C D E F G H I J K L M N O P Q R S T U V W Y
Directions, movement and positions in dreams and visions
Substitution in dreams and visions
All local resources on this website are free of charge. Please help us by sharing it with your friends through the social networks. Social network sharing buttons available at the bottom of all pages